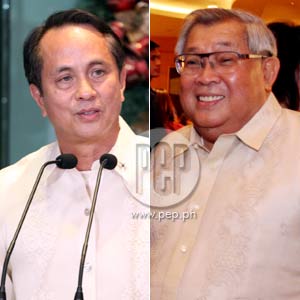 IMAGE 0
---
Network bigwigs Eugenio Lopez III of ABS-CBN and Gilberto Duavit Jr. and Felipe Gozon of GMA-7 landed anew in this year's list of the "Philippines' 40 Richest," according to Forbes Magazine.
The list was published by the magazine on its official website on June 22. Its counting of assests is in U.S. dollars.
It shows GMA Network COO Duavit Jr. occupying the 26th spot, with a net worth of $190 million.
Network CEO Gozon clinches 30th place, with an estimated $163 million in assets.
ABS-CBN Chairman and CEO Eugenio Lopez III ranks No. 39 in the list, and is reported to be worth $90 million.
Oscar Lopez, the Chairman Emeritus of the Lopez Group of Companies (formerly Benpres Holding Corporation), is at No. 23, with an estimated wealth of $280 million.
Businessman and GMA Network's former president Menardo Jimenez has a $185 million net worth, according to Forbes Magazine, and corners the 27th spot.
Interestingly, all of these businesmen suffered a dip in their respective rankings when compared to last year's Forbes list.
ADVERTISEMENT - CONTINUE READING BELOW
In 2010, Oscar Lopez was ranked No. 16, while Gilberto Duavit, Jr. placed 25th overall in the list.
Menardo Lopez was 26th, Felipe Gozon 27th, and Eugenio Lopez III 36th, according to Forbes Magazine's report.
MOVING UP. While there are some who experienced a decline in their net worth, a handful of personalities saw their fortunes improve from the previous year's numbers.
"Overall, the number of billionaires has more than doubled this year to 11—a record haul," the report mentioned.
It also added that "thirty-two tycoons are richer," despite the low 4.9 percent growth of the economy early this year, due to sluggish trading and the government's low infrastructure spending.
Significant earners who made an impact in this year's list include:
International Container Terminal Services, Inc. (ICTSI) Chairman and CEO Enrique Razon Jr;
Jose Antonio of Century Properties;
Rebisco founder Jacinto Ng, Sr.;
and Mang Inasal founder Edgar Sia III, whose net worth jumped from $50 million to $85 million, after Jollibee Foods Corporation bought 70 percent of the barbecue chain restaurant in October of last year.
ADVERTISEMENT - CONTINUE READING BELOW
For the fourth year in a row, SM Prime Holdings Chairman Henry Sy emerged as the country's richest man, with a $7.2 billion net worth.
Fellow business magnate Lucio Tan comes in at second place. The 77-year-old tycoon raked in an estimated $2.8 billion, higher than his $2.1 billion assets published last year.
JG Summit Chairman John Gokongwei Jr. placed third overall in the list, with a net worth valued at $2.4 billion.
Rounding up the top five are real estate tycoon Andrew Tan ($2 billion) and construction magnate David Consunji ($1.9 billion), thanks largely to the increase in the shares of DMCI Holdings.
Here is the complete list of the Philippines' 40 Richest as published by Forbes Magazine:
1. Henry Sy - $7.2 billion
2. Lucio Tan - $2.8 billion
3. John Gokongwei, Jr. - $2.4 billion
4. Andrew Tan - $2 billion
5. David Consunji - $1.9 billion
6. Jaime Zobel de Ayala - $1.7 billion
7. Enrique Razon Jr. - $1.6 billion
8. Eduardo Cojuangco Jr. - $1.4 billion
9. Roberto Ongpin - $1.3 billion
ADVERTISEMENT - CONTINUE READING BELOW
10. George Ty - $1.1 billion
11. Tony Tan Caktiong - $1 billion
12. Inigo and Mercedes Zobel - $980 million
13. Emilio Yap - $930 million
14. Andrew Gotianun - $795 million
15. Jon Ramon Aboitiz - $760 million
16. Beatrice Campos - $685 million
17. Manuel Villar - $620 million
18. Vivian Que Azcona - $555 million
19. Robert Coyiuto Jr. - $400 million
20. Mariano Tan - $375 million
21. Alfonso Yuchengco - $370 million
22. Enrique Aboitiz - $310 million
23. Oscar Lopez - $280 million
24. Jose Antonio - $245 million
25. Eric Recto - $200 million
26. Gilberto Duavit - $190 million
27. Menardo Jimenez - $185 million
28. Alfredo Ramos - $180 million
29. Betty Ang - $165 million
30. Felipe Gozon - $163 million
31. Tomas Alcantara - $160 million
32. Benjamin Romualdez - $155 million
33. Wilfred Uytengsu, Jr. - $150 million
34. Manuel Zamora Jr. - $145 million
35. Jacinto Ng, Sr. - $115 million
36. Frederick Dy - $110 million
37. Luis Virata - $100 million
38. Bienvenido Tantoco, Sr. - $95 million
39. Eugenio Lopez III - $90 million
40. Edgar Sia II - $85 million