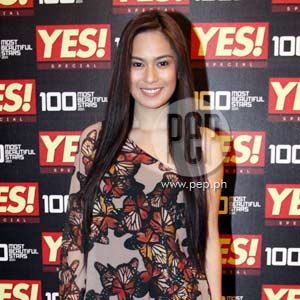 IMAGE 0
---
Beyond their stylish clothes and amazing bodies, another thing we admire about showbiz celebrities is their beautiful hair.
Take teen actress Yen Santos, for instance, who looks simply adorable in the Sunday afternoon youth program, Growing Up.
Her long, straight hair just fits the bill for a blooming teener on the verge of discovering the joys of womanhood and finding her true love.
But as most women know too well, bad hair days can ruin even the most perfect "fairy tale moments," and blow their chance at romance.
The good news is, hair care—when done right—can have its rightful "happy ending."
Revlon Professional Philippines hair stylist Phoem Nulla gives hope to girls who want to have long, full hair just like Yen.
According to Phoem, one reason why most girls tend to stick to a cropped cut is because of falling hair.
"The heavy weight coming from your long hair can cause tension on the crown. This makes your hair weak and vulnerable to falling."
Her first aid advice: "Keep hair at mid-length (just a couple of inches below the shoulders).
"Then, maintain it with a hair repair treatment to boost hair strength and shine."
But for long term results, Signature Styles CEO Vicky Lim recommends getting a scalp treatment.
In an interview—which doubled as a crash course on hair care—last September 18 at the Revlon Building in Mandaluyong City, she advised:
"Have your hair analyzed because hair loss can be due to a lot of factors. One of them might be oily scalp."
Falling hair, says Vicky, is actually a normal process that our crowning glory goes through. Everyday we are supposed to lose some of our hair.
"You know, our hair is a living organism. It has follicles, each hair strand has follicles.
"If you magnify it 250 times, you can see the holes. Every hair has holes.
ADVERTISEMENT - CONTINUE READING BELOW
"So, if there's oil [on your scalp] and it clogs up the follicles, the hair will die. Hindi siya makakahinga so it falls off. So those people going bald, it's because of that.
"And because we are supposed to lose hair everyday, when there is new hair coming up, and if you have oil blocking the follicles, the new hair will die also. That's how you get bald."
HAIR FALL MYTHS. While the beauty market is abound with hair growth products, Vicky remains skeptical about most of their superlative claims.
She says, "Those medicines for hair growth, they will just clear the follicle. They won't make your hair grow back.
"You will always have hair coming up. You just have to make sure that they come up and they grow.
"So, you have to control that because, naturally, you have a lot of hair."
Vicky also refutes another age-old notion that purportedly causes baldness and hair fall.
"I wouldn't say that it's true per se—that if you're wearing a cap or you tie your wet hair, you will lose your hair.
"Again, like I said, the primary form of prevention [for hair fall] is to let the follicle be clog-free."
OILY HAIR SOLUTION. Being in the hair care business for at least 20 years, Vicky says she has come across a lot of products that promise a unique solution to every hair dilemma.
Still, her best advice is to get educated about proper hair care, starting off with learning to discern the difference between a hair problem and a scalp problem.
"You know, things like dandruff is really not a hair problem. Dry hair because of coloring, that is a hair problem. But dandruff is not.
"It is a scalp problem and also falling hair. It has nothing to do with our hair.
ADVERTISEMENT - CONTINUE READING BELOW
"Yung scalp na sensitive and itchy, it has nothing to do din with our hair. It's all scalp.
"So the best way to have good hair is first to treat your scalp. You have to have it analyzed. You have to know, 'Is your scalp oily?'"
A product called dermal cleansing clay is one way of impeding your oily scalp from further destroying your hair.
It is a solution, in clay form, that is rubbed onto the scalp. The cleansing agent in the product removes the oil and unclogs the follicles.
"[Oiliness] varies in people. For some, it takes a day and oily na. Some people two days. Others makikita mo under a probe, nag-shampoo lang talagang pumuputok na yung oil.
"Maybe it has something to do with our diet or maybe the environment. It's all internal, e. It has nothing to do with our hair.
"Not because you put too much color or you did rebonding, and then [it results to] falling hair, that's not it."
PROPER HAIR CARE TIPS. While Vicky urges everyone to get their hair and scalp analyzed and treated, she also insists on maintaining a proper daily regimen.
"Just make sure that when you shampoo, you don't use your fingernails, use your finger beds. Don't scratch your scalp.
"And it's very important that when we shampoo, we should always make sure that we shampoo our scalp. Primarily, that is to remove all the oil residue.
"And make sure you rinse well, and there's no leftover shampoo because that will also clog up the follicles."
She also advises the use of both shampoo and conditioner everyday, especially if you use a lot of chemicals on your hair.
"Like me, I color my hair every so often. And because of that, I really need to put conditioner on my hair.
ADVERTISEMENT - CONTINUE READING BELOW
"If your hair is subject to a lot of chemical process, all hair follicles are open. And we lose all the protein in our hair—about 98% protein.
"So, we have to seal it off and the conditioner does that.
"And you know, the people who don't use conditioner are prone to have a lot of split ends."