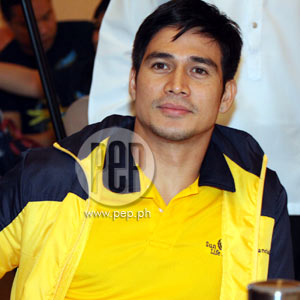 IMAGE 0
---
Piolo Pascual doesn't need to put his best foot forward to get what he wants.
But when he wants to, he can go all out with his support—especially if it's for a worthy cause that be believes in strongly.
This was exactly what he did when he was asked to help raise funds for his family-funded charity: the Hebreo 12:1 Foundation.
The actor, who also happens to be an ambassador for Sun Life Financial, is collaborating with the insurance company for a project that advances education, health, and fitness.
SunPiology is a three-year-old project that has been hosting fund-raisers such as photo exhibits and marathons. Last year, among SunPiology's activities was the environmentally-themed "Pursuits Journal" or "PJ"—wrought from Piolo's nickname, PJ—a planner/journal/calendar that featured nature-inspired photos that the actor took himself.
This year, Piolo and his team of advocates are at it again through "Rave, Run, and Raise Funds for a Cause," a two-part event that will commence on December 10, 2011 at the Bonifacio Global City in Taguig.
ADVERTISEMENT - CONTINUE READING BELOW
"Ako po, I'm really happy with Sun Life—the partnership I have with them, not only as an ambassador but with SunPiology," beams Piolo who takes pride in his big-hearted endeavor.
To kick off this year's event is an exhibit themed "Panoramic Portals" that will display Piolo's personal photo gallery alongside the original hand-drawn artworks by a Hebreo scholar. In effect, the earnings culled from the exhibit will finance the education of the featured artist.
Meanwhile, an online bidding for Piolo's pictures will transpire until January 12, 2012, concurrent with the end of the exhibit.
PIOLO LIVES FOR RUNNING. A Piolo-charity event will not be complete without a race.
Apart from being a passionate actor, Piolo has become a competitive runner who has participated in several marathons. He recently completed his 21 km distance run where he narrates pulling a nail from his shoe at the end of the race.
Despite such mishaps or inevitable injuries, Piolo is determined to persist. "You just have to get better and get used to running," he says.
ADVERTISEMENT - CONTINUE READING BELOW
Running has become a regimen for Piolo— "a time to think and just let go." Moreover, it pushes him "to see how far he can go."
While he regrets not being able to join the New York marathon this year—something that he envies Sun Life President Riza Mantaring for— he has willingly set it aside for next year. By then, he should be more than ready to nail his first full marathon as well through a 42km race.
Meanwhile, Piolo keeps busy preparing for SunPiology's "Sunset Run" which is a 3-part race—comprised of 3 km, a 5 km, and a 10 km categories. The race will start with the Vertical Run at the Sun Life Center at the corner of 5th Avenue and Rizal Drive.
Asked if he foresees a happy Yuletide season for himself, Piolo answers, "[I] hope so." We know he has reason to be happy and fulfilled with a race to complete and a year-ender charity to bless his beautiful soul.
ADVERTISEMENT - CONTINUE READING BELOW