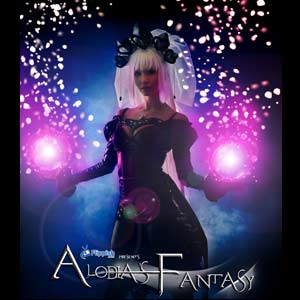 IMAGE 0
---
PRESS RELEASE
Even beyond her quirky outfits and charming demeanor, Alodia Gosiengfiao is definitely not someone you can easily miss.
You may have caught a glimpse of her dressed up at a toy convention or making you laugh on television, or perhaps you've done a complete double take when she brought your favorite anime character to life. Indeed, it is not an easy feat for someone like her to go unnoticed.
Known as the Philippines' Queen of Cosplay or Cosplay Goddess, Alodia has certainly come a long way from her initial foray into the world of cosplay.
Having started cosplaying at the age of 15, she has since won many cosplaying competitions and has even participated in a few as a judge or special guest.
Her notable achievements within the cosplay community has earned her the distinction of raising cosplay's profile in the local scene.
To that, she seems to be quite successful already, but her next upcoming project will no doubt bring cosplay even more exposure because she is now getting ready to launch the first-ever online cosplay show in the Philippines aptly titled Alodia's Fantasy.
ADVERTISEMENT - CONTINUE READING BELOW
Although avid gamers might find the name very similar to a popular game series, while others may perceive it to be something whimsical and mysterious—it's an entirely different take on the word's meaning.
"The word 'fantasy' in the title is in reference to cosplay being something associated with fantasy brought to reality," says Alodia.
Despite the term cosplay being an amalgam of the words costume and roleplay, Alodia believes that it goes beyond that. "It's not just simply dressing up, it's really being the character. You don't just act the part, you also have to immerse yourself in the character you're portraying," she says.
Apart from Alodia, the show also brings together several other well-known local cosplayers. It is not only the first show to prominently feature cosplay as its main theme, focusing on cosplayers, but also the first of its kind to be featured via live-streaming online.
For this event, Alodia partnered with Flippish.com, the first online video channel in the Philippines. When asked why she didn't opt for the traditional television route, Alodia replied: "I think online live-streaming is perfect for the show, since a lot of people these days are heavy Internet users, especially cosplayers since we post and share our photos, news, and events online."
ADVERTISEMENT - CONTINUE READING BELOW
Aside from the usual cosplay fare, the show will also have games and segments that are quite unlike those shown on mainstream TV. "What sets online television apart is the amount of interaction," says Christopher Tan, managing director of Flippish.com. "Online, people can chat and watch at the same time, creating an interesting and unique experience for both the audience and the host."
Alodia's Fantasy is made possible by Flippish.com, Island Rose, Globe Tattoo and Fresh Gear Jeans.
You can catch the live-streaming of Alodia's Fantasy on October 22, Saturday, from 8 - 10 pm on www.flippish.com/alodiasfantasy
Ed's Note: When content falls under "Press Statement," this means that the material is fully and directly from the company itself. The use of open-and-close quotation marks to envelope the entire text shows as much. This also means that PEP is not the author of the statement being read. PEP is simply providing the information for readers who may be interested.
ADVERTISEMENT - CONTINUE READING BELOW