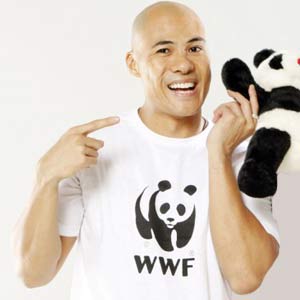 IMAGE 0
---
"I feel very guilty, easily. I was running out of excuses to say to them. It was that one guy who just said, 'two minutes for Mother Earth, that's all.'"
And so Rovilson Fernandez describes the encounter that started his relationship with the World Wide Fund for Nature.
Apparently, the brawny athlete-endorser and Makati resident—who takes the Ayala underpass daily to get to his meetings on time—has always managed to successfully dodge the gauntlet of WWF volunteers who would religiously hound passersby for two minutes of their time.
Given the opportunity, such devout WWF loyalists would rattle off their canned spiels about saving Mother Nature, and make a pitch for environmental advocacy.
For the busy Game Plan and Lakbay TV host, plowing through the busy crowd at a frantic pace has always been his best bet for fending off hucksters. Or so he thought, until that fateful day when he finally stopped, and listened—and eventually got hooked.
ADVERTISEMENT - CONTINUE READING BELOW
"After a couple of days, they broke me down. But I swear, I was gonna listen to them, I swear," he half-jokes in retrospect.
And so it's been going on for little over a year now, with Rovilson not just becoming a regular monthly donor for WWF but proudly flaunting his new tag as the group's National Brand Ambassador as well. He's even got his nifty calling card to prove it.
Some may say, 'If he hadn't been walking, he'd never have to dodge the volunteers.' Rovilson says, "Salcedo [Village] is very close. Why drive, right? It's nicer to walk anyway."
In that simple statement, it's clear where his heart lies—firmly entrenched in a genuine concern and love for nature. His support for Mother Earth was evident even before coming on board WWF, through his hosting jobs in Game Plan and Lakbay TV (a travel show around the Philippines) and his own background, growing up.
ADVERTISEMENT - CONTINUE READING BELOW
"Going around the Philippines, seeing pollution, people just being... they just didn't know any better. It's just education. Because Pinoysare a very clean race, we're probably the cleanest race when it comes to ourselves, our immediate area. But anything not our area, it's unfortunate. On top of that, I'm from California originally and that's a state where recycling is key... ever since we were little kids they taught us, 'Do not pollute, love your state, love your country.' I grew up with that and carried it over."
Having that ingrained in his system all these years, Rovilson couldn't help but come up with his own little advocacies by "doing little things to help with the environment and conservation," he explains—like hosting Earth Hour in 2009, pro bono, and so on.
But he says, "It's so nice to be part of a bigger team, something more legit, literally, with a capital L. It feels so good to have them backing you up when you do these advocacies."
ADVERTISEMENT - CONTINUE READING BELOW
Of his WWF ambassadorial stint, Rovilson comments, "When Marc (Nelson) and I were asked, we were so honored, it's such an honor. We've been involved for over a year now, doing what we can but we still want to do more."
He says there aren't that many specific challenges for him to hurdle. Could this be because he is handsome?
Rovilson is quick to note, "Nah, that's the other guy! The guy with hair... I'm the other guy, the stunt double."
"Well, it was just time, a venue... to speak to a larger audience, and that because of our media background, media tie-ups and... I thought it's about time we give back. I hate to quote Spiderman, but you know, 'With great power comes great responsibility.'"
Getting serious again, Rovilson explains their motivation to help out, "That was our obligation, it really was. Marc and I, we've been traveling all over the country," and I include, 'don't forget the world!' Rovilson says he kind of forgot about the world since he considers the Philippines his world now.
ADVERTISEMENT - CONTINUE READING BELOW
He continues that it was their responsibility to give back, "because we've been so involved, with the environment, the countryside, and the Philippines has been so good to us, so it's our way to give back. And it was so easy because we had... we kinda like the fact that WWF got us and is using us." He pleads, with a big smile, "Please use us, because we need to give back."
He explains that one of his favorite ways to be used by WWF is when they go to schools, "talking to the children, because that's when they are most malleable. And that's where we learned. Everything I've known about the environment, I actually learned as a kid."
He relates, "doesn't it break your heart when you're behind a car and the windows roll down and they throw trash? It's like...," signifying that for those like him who grew up knowing better, such behavior should not be tolerated.
ADVERTISEMENT - CONTINUE READING BELOW
On a lighter note, Rovilson shares a funny and weird moment, even for him of Ang Pinaka fame. During a school visit to Pembo Elementary School, the largest public school located in Makati's depressed areas, he was asked to explain the childbirth of a dugong.
"I'm having to explain that with puppets with a baby coming out of the mother, of her... dozens of children, medyo Taglish, so pasensya na! It was the most excruciating experience! The kids were so attentive, and they were watching me. And their faces, I didn't see horror on their faces. I saw horror on the faces of the WWF organizers."
He relates that the WWF people must have regretted getting him for the job seeing how awkward the resulting process turned out.
During a recent event that Rovilson hosted, the WWF enlightened the media guests and concerned friends about the Individual Donors Program and programs in Marine Conservation, Forest Conservation and Educational Programs.
ADVERTISEMENT - CONTINUE READING BELOW
Rovilson shares how he helps save the earth, "Amongst my friends, I always promote 'Turn off your lights.' I know it's so simple. And they get so mad at me for bugging them. But I tell them and I do it myself.
"I tell them to turn off the air con. I even impose to everyone, 'Don't sleep with your air conditioners; buy a fan, it will be cheaper.' I don't use air conditioning! I bought a fan, put it right on my head, I lift my arms, and it dries my kili-kili..."
Cheeky, funny, and ever so practical, of course. Rovilson is quite aghast with the fact that the Philippines has the third or fifth most expensive electricity bill in the whole world. He also says that he brings the following advocacy with him wherever he goes: "'Do not litter.' Throw your trash, there's always places to put your trash, so put it in your pocket for now."
ADVERTISEMENT - CONTINUE READING BELOW
Rovilson, as a monthly individual donor, knows the importance of giving even just two minutes to the WWF volunteers who ceaselessly aim to bridge the gap in earth conservation.
WWF Phils. Vice Chairman and CEO Ma. Lorenzo Tan promised that they will continue to strive to stop the planet's degradation and help build a future where humans can live in harmony with nature.
He starts and ends his talk by asking, "Are you happy with the way things are?" leading into a persuasive pitch for a sustainable, viable and practical, and long-term strategy to help save Mother Earth. He says that it's time for everyone to do their part.