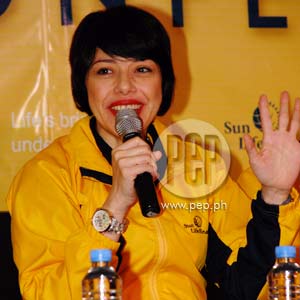 IMAGE 0
---
"I still look for somebody I could relate to, like the way I used to do with Frans [Francis Magalona]," Pia Arroyo-Magalona replied when asked by PEP.ph (Philippine Entertainment Portal) about falling in love again.
Pia is the widow of the late Master Rapper Francis Magalona and mother to eight children; namely Unna, Niccolo, Maxene, Frank Jr., Saab, Elmo, Arkin, and Clara.
PEP got a chance to interview Pia last July 9, Saturday, at the World Trade Center for the Sun Life presscon.
It's been two years since Francis passed away. Does she believe in second chances when it comes to love?
"Of course naman.
"And like, you know, I do believe na... even like for practicality's sake.
"That's why I'm so madaldal because I have no one to talk to, you know!" Pia exclaimed.
"It's always kids and all.
"But even my big ones... Even if I treat them as adults already, of course, I still look for somebody like the way I used to do with Frans [Francis], like intellectually, and, you know, interest.
She added, "I wanna be with somebody I've come in interest with and who also has the same passion I do about life, di ba?"
Pia explained further why she believes in second chances.
"Because my plan with Frans before, our plan together was if the kids are all out, done with school and all, it's gonna go back to him and me again and we continue our adventures, di ba?
"So I don't have him to do...to experience that anyone with.
ADVERTISEMENT - CONTINUE READING BELOW
"So I wish, I... That comes to me, I can't go out looking for that person right?
"But the thing is... That's why I make fun of it na lang kasi a lot of people are intimidated.
"And like, you know, they're used to like... Our society kasi is more… how do you call that? The patriarchal, like very macho and all.
"And they think that just because, a... You know, I'm not a man hater.
"I am more an advocate for women's empowerment," Pia clarified.
PEP also asked Pia if someone is courting her right now.
"Oh, I'm not gonna answer that!" she quipped.
Is she dating someone?
"Well, I was. But it didn't go anywhere. So, yeah... so I don't know.
"I'm not like…you're the first. I actually told that too in public, but you know, I don't go around like announcing my every move [if] that person, if he's strong enough to come up to me and win me," she said.