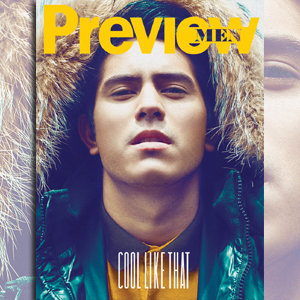 IMAGE 0
---
Living in a tropical country like the Philippines where only two seasons occur yearly, we Filipinos often wish to experience a white Christmas up close.
Sometimes, we even fantasize about it so much that when the cool breeze starts to hit around the "ber" months, we deck out in fashion worthy of the fall/winter runways abroad.
But how do you actually wear your coats, jackets, etc. in a stylish manner?
Well, for the ladies, it's quite easy. But for the guys, the stylish team of Preview magazine shows how it's rightfully done in a 40-page special called Preview Men included in this month's issue. (CLICK HERE to read related article)
Hot young actor Gerald Anderson graces the section in a cover feature wearing layers of colorful shirts and parkas paired with funky bottoms, boots, and hats.
The magazine's editor-in-chief Pauline Suaco-Juan talks about choosing Gerald for the feature.
"I think he exemplifies the Preview man in a sense that he takes chances with his looks, with his fashion."
Creative director Vince Uy also adds, "Like in the Star Magic Ball, he had the high-coiffed hair.
"And I think we wanted to get someone fresh—someone who would actually be the next It boy.
"Parang sila yung mga next in line, e, and we wanted also to show the readers a different fashionable aspect of him.
"In the same way, as we always do in the magazine, we try to show a direct interpretation of what a Preview man is by showing a fashionable aspect of this celebrity."
So, how should a guy wear the trendiest pieces of the season?
"Our look naman is more of a layered look, so it's something that you can wear all together or wear individually as well. It's more of that context," says Vince.
ADVERTISEMENT - CONTINUE READING BELOW
Pop colors and prints are in for men's fashion this season. Collared shirts in one solid tint, mixed hues, or graphic lines are definitely handy.
When shopping, choose items made of light fabrics so they would still be bearable to weather come summer.
There's also no need to kill your budget by buying way too many jackets and parkas just to get by for the rest of the season.
If you must, buy at least a couple of new ones that you can switch from time to time for the rest of the season. Choose classic styles that are easy to match with different outfits.
But if you're the fun, adventurous type, pieces with added details like a fur collar can also be a nice addition to your wardrobe.
And if you already have some winter gear stuck in your closet, then this is the perfect time to take them out!
Don't be ashamed if they're as old as your uncle. Vintage pieces mixed with fresh accessories are always a great, fashionable combination.