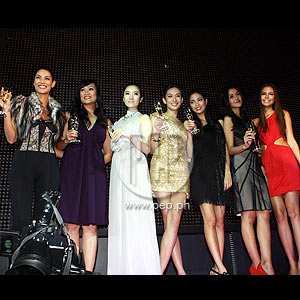 IMAGE 0
---

During the early years of Cosmopolitan Philippines, the magazine recognized eight of the hottest models of the year in a feature called "Cosmo's 8 Sexiest Models" that ran in 1999, 2002, 2004 and 2005.
These lists launched and even catapulted many a model's career, making fashion and beauty industry stars of such names as Joey Mead, Phoemela Baranda, Cristina Garcia, Amanda Griffin, Bianca Araneta, Wilma Doesnt, Maike Evers, Isabel Roces, Rissa Mananquil, Raya Mananquil, Ornusa Cadness, Kelly Misa, Ria Bolivar, Isabel Oli, and Georgina Wilson, to name a few.
As founding editor-in-chief Myrza Sison returns to head Cosmopolitan, she brings back this tradition in the November 2011 issue, where Cosmo turns the spotlight on eight of this year's sexiest models that best epitomize the true Cosmo Girl.
The Cosmo 8 Sexiest Models Party was held last November 8 at Palladium, New World Hotel, Makati City.
This year's picks are: Pauline Prieto, Jessica Yang, Bea Soriano, Samantha Lewis, Wendy Tabusalla, Vanessa Matsunaga, Jasmine Maierhofer and Ana Sideco—all familiar faces and figures in the country's top fashion magazines and runways.
Aside from honoring this year's sexiest models, the party celebrated the homecoming of Cosmo's eight sexiest models of years past.
Sison was also officially re-introduced to members of the press, as she revealed her plans for the future of Cosmo.
"Expect the most engaging, compelling and useful content and the best, most exciting visuals and images by the country's topnotch talents in the pages of the new Cosmo. All these while still staying fresh, up-to-date and relevant to the times and to the reader's life," she says.
The Cosmo team also welcomed some stellar additions to the staff: fashion director Ana Kalaw, beauty director Agoo Bengzon, and lifestyle editor-at-large Kissa Castañeda.
Grab a copy of the November issue of Cosmopolitan magazine with Carla Abellana on the cover, available in newsstands, bookstores, and supermarkets nationwide.
ADVERTISEMENT - CONTINUE READING BELOW
For more of Cosmo, visit www.cosmo.ph, become a fan on Facebook via www.facebook.com/cosmopolitan.ph, and follow them on Twitter via Twitter.com/cosmo_ph.