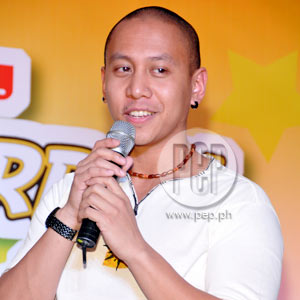 IMAGE 0
---
If you're Pinoy and a fan of the Internet, chances are you've heard of Mikey Bustos.
He produced and popularized the "Filipino Accent Tutorial" on YouTube, where he also did a parody of Lady Gaga's "Born This Way."
The latter, in one way or another, led to an endorsement.
During the Pinoy Fiesta-theme press launch at Bar One of the Crowne Plaza Hotel, he sang his version titled, "Pinoy This Way."
It went something like this:
"We have white rice on our plate, San Miguel beer, balut egg, and Chicharron ni Mang Juan, 'cause we're Pinoy this way.
"We eat vinegar with fruit, use spoon and fork to eat food, we're saving some for baon, we're Pinoy this way..."
Wearing an Obra ni Juan casual Filipino-style shirt over black pants and black shoes, Mikey kicked off the event with a fast-paced medley of "Beautiful Girl" and "Stand by Me."
Warming up to the audience, he compared the bitterly cold weather of Toronto, Canada, with the warmth of Manila.
"Being home in Manila feels so good!" he said.
Mikey was born and raised in Canada, where he placed 8th in the Canadian Idol in 2003.
A few years later, he released a single, "One Song at a Time," which is included in his first album under Universal Music.
In between song numbers, he talked about Pinoy food: "Growing up, my parents cooked everything—adobo, sinigang, pancit, tinola, and pinakbet.
"My favorite is caldereta and it has to have pickles and olives."
He added that caldereta without those two ingredients "would be a crime."
His favorite merienda is puto, "but I don't really eat that much" while chicharon is his weakness, referring to it as his "Kryptonite."
He added, "It gives me energy!"
He ended the event performing "Pinoy This Way," changing the words "chicharon bulaklak" to Chicharron ni Mang Juan. "It's actually better," he said.
ADVERTISEMENT - CONTINUE READING BELOW
How does it feel to be an endorser of a Pinoy product?
"It is such an honor. It's indescribable how much of an honor it is. I think I jumped on my bed for like an hour. I couldn't believe it," was Mikey's answer.
He continued, "I really feel like God set this up for me.
"Even before this, I was getting hundreds of messages and one day, I checked my YouTube inbox and one of the emails called out to me.
"It was the offer to do this.
"It resonated with me because one, I'm proud to be Pinoy, and two, it was a match."
And since he mentioned "match," the press asked him to name local celebrities he can associate with the following flavors: "spicy and sisig," "espesyal suka't sili," and "espesyal sukang paombong."
The singer-comedian gave one name: Anne Curtis!
"I really like that girl. She's wonderful," he said before adding, "And Cindy Kurleto, too. I was able to meet her in 2006."
The man who opened the concerts of The Pussycat Dolls and Christina Aguilera has plans of releasing a special edition Pinoy fiesta-theme album.
"It's in the works... it's coming out beginning of next year. I can't say much about it yet."