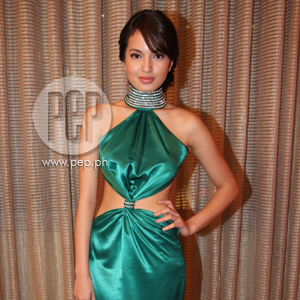 IMAGE 0
---
She may be one of today's hottest young stars, but Sarah Lahbati seems to be taking all the fame and adulation in stride.
Wherever she goes, the pretty actress never fails to disarm everyone with her low-key presence and stark humility.
When we chanced upon her recently at the GMA Artist Center Ball, held last November 8 at the Shangri-La Hotel Makati, we couldn't help but remark as to how sexy she looked in her revealing emerald green gown.
Seemingly at a loss for words, she simply bowed her head and smiled at us shyly.
It seems that the StarStruck V winner is still not used to being called alluring, despite bagging the lead role of Kara in the TV remake of Kokak—a 1989 film best remembered for its sexy lead star Rachel Lobangco.
Judging from Rachel's stunningly statuesque feature, Sarah certainly fits the bill.
She has the height and the body which will definitely by the fantasy of many boys out there.
So, how does this 18-year old beauty stay fit? With healthy eating habits, of course.
Sarah admits she hasn't gone to the gym lately due to her hectic showbiz schedule, but says she tries to watch her diet to avoid gaining extra pounds.
She counts discipline and having health-conscious friends around her as the main ingredients to her weight management success.
"Yung mga friends ko rin na super into working out—mga gym buff—yun din yung mga nagturo sa'kin ng discipline, and yung mga healthy food na dapat kainin.
"Kasi dati sobrang anything na masarap, kinakain ko.
"Pero may kasabihan nga na habang sumasarap, lumalaki din ang katawan. So, super ingat ako ngayon," she confides.
Interestingly, she admits that she has never eaten pork.
"I don't eat pork. I never...hindi ko natikman," says Sarah.
The young actress says she does not follow a strict diet plan. Her avoidance of meat was purely accidental.
ADVERTISEMENT - CONTINUE READING BELOW
She was never accustomed to eating pork since she was a kid. It's a one of the healthy habits she has kept up to this day.
"Mas kumakain ako ng fish, ng vegetables, fruits, and yogurt," she adds.
Although from time to time, Sarah treats to herself to some sweets.
"Siguro once a week, ice cream dito or cake diyan para ma-enjoy ko naman kahit papaano."
EAT PORK WITHOUT GETTING FAT. While Sarah's no-pork diet is only incidental to her upbringing, many health enthusiasts actually believe that completely eliminating pork from your meals can be very beneficial to the body.
Vegetarians, as well as adherents of the alkaline and Bible diets, would definitely agree with this nutritional concept.
Pork is essentially high in calories and fats that are not exactly helpful if you're trying to lose weight.
But if you're not keen on foregoing it entirely, then take our advice and pick just the right cuts.
When buying pork, always choose the lean cuts such as tenderloin, loin chops, and sirloins. They are your healthiest options.
They contain pure meat which is high in protein for energy boost.
Get none of the cuts laden with fatty trimmings—the kind normally found in bacons and hams.
These fatty portions are high in saturated fat and cholesterol, which can not only add to the fat deposits in your body, but also put you at risk for certain illnesses and complications.
And as they say with almost anything, do it in moderation.
According to the USDA (United States Department of Agriculture), the recommended serving size for pork is at 3 ounces, or just about the size of the palm of your hand.
For Filipinos, the Food and Nutrition Research Institute of the DOST (Department of Science and Technology) recommends at least 3-4 servings of meat in a week.
ADVERTISEMENT - CONTINUE READING BELOW