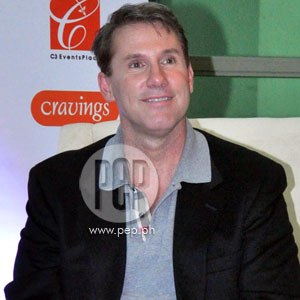 IMAGE 0
---
Forty-something Nicholas Sparks, who wrote his world-famous romantic novel The Notebook at age 28, has so far churned out seventeen novels since the start of his writing career. That's like a book each year since his first one.
The former real estate seller, dental product salesman, and manufacturing guy has Czech, German, English and Irish blood running through his veins. His team track record for a relay race at the University of Notre Dame from 1985 still stands as of press time.
Sparks recently visited Manila to promote his latest novel, The Best of Me. As part of the book's promo tour, the author graciously shared his time with the local press and talked about his writing insights.
Despite being acclaimed as a prolific writer, Sparks confessed that even his experiences have not made him immune to writer's block.
"Every day! Every day I struggle with it. Writing is easy. Writing well is really hard," he clarifies.
Fortunately, he's stumbled upon a few intuitive, tried-and-tested personal formulas to overcome such a syndrome.
"For me, I stop writing or I'm blocked because subconsciously, in the back of my mind I know I've taken a wrong turn," he elaborates. "So I might go back to the point, 3 or 4, or 5 pages ago where the writing was still going good and try and isolate what I did wrong. If I can't isolate it, I might throw away those 5 pages. Or go off in a slightly different direction if that feels right."
He does reveal that he gets such a bad case of writing block at times, that he ends up following through in a completely different direction altogether.
"It's like throwing half the novel away, which was what I did with Saying Goodbye," Sparks shares regretfully.
"I get to a point where I can't work on it, where the story isn't going to work out and I set it aside and work on something else."
ADVERTISEMENT - CONTINUE READING BELOW
Products of these experiences are for example, Safe Haven, which was birthed from the ashes of Saying Goodbye.
Asked for a few simple remedies for writer's block, Sparks says, "There are different ways: you can work backwards, go back a little bit then start going forward again. Or throw it away and start over."
Given that he's written and created so many characters, which of them would he choose to live out for even a day, and why?
"Just for a day? Oh my goodness," he exclaims. "They all have so many good days. The character I related the most to in a way, is Landon Carter from A Walk to Remember."
He attributes this to the fact that in so many other novels (The Notebook, Message in a Bottle), "I'm not these characters," he avers. "Noah is an 80 year old, married 50 years to a woman who no longer remembers him. I was 28 years old when I wrote that. It's hard to crawl into and imagine someone 80... and trying to capture their voice and make it realistic. That's a challenging thing to do. But I have been a 17-year old high school boy. I have been a Landon Carter."
Nicholas then laughs and says he doesn't want to be Landon per se, because he led a pretty tragic life.
So, how did he end up choosing to write love stories, then?
"When I was 28 years old, I made the decision to give writing a real shot," he recalls. "I'd written two novels, but they never got published."
He said that when he started, he just wanted to see if he could finish a novel. He remembers telling himself he'd give himself three shots, "I figure if I try really hard and nothing works, then I wasn't made to be a writer. I could live with failure. I just didn't want to live with the idea that I didn't give it my best shot," he reminisces wistfully.
ADVERTISEMENT - CONTINUE READING BELOW
He started thinking of what stories he could write and he turned to his grandparents' real life love story, which became the foundation for The Notebook.
He thought to himself, "This is the warm-up for when I really write... and so I write it, and The Notebook sells like a billion copies. It's made into a movie and all that. Then I said, 'if it ain't broke, why fix it?' So I'll write another love story..."
"I guess I'm writing love stories because people like it."
Could he ever venture into other genres? He has released at least two suspense novels.
"Horror, procedural, or even a literary novel? Yes, yes, yes. Absolutely. But I don't know if we'd enjoy them anymore. Maybe one day..."
Nicholas says that The Guardian and Safe Haven, the two novels that have elements of a suspense thriller, could be further explored as a genre, "But not right now," he declares. "We'll give it a few years. Right now I'm not sure how to take it to a different level. I'd love to, it' a whole lot easier to write, for one. External conflict is easier to... than internal conflict. Just not right now."
Where does he usually draw his inspiration for his female characters from? Does his wife inspire him in this area?
"You see my wife in a lot of my novels," Sparks continues. "I create female characters I'm attracted to. I really like intelligence, loyalty, a good sense of right and wrong, I like the ability to do the right thing even when it's hard, sense of humor... they're very important to me. A lot of my female characters have those traits."
"I don't know whether I put them in because my wife has them or I fell in love with my wife because she has them and it's one of the things that attracted me... it's like a chicken and egg situation," he muses.
ADVERTISEMENT - CONTINUE READING BELOW
So to answer, Nicholas explains that his female characters are based on real people, except not one person at a time.
Nicholas already mentioned that he sets novels aside, especially when he gets writer's block. Does he ever go back to one and try and finish it?
"I did two of those. I had written Message in a Bottle, and started writing The Best Man. Got halfway through and I realized it just wasn't working. I set it aside and I wrote A Walk to Remember. With Saying Goodbye, about 2/3 the way through, I set it aside. I probably won't go back... however I have pilfered from these unfinished novels and brought them to the next novel. The main character in The Best Man is named Landon Carter. A lot of the elements, I reuse them," he elucidates.
The guy who reads 125 books a year has kept several books through the years that have really gripped him. He says, "One of the key passions of my life is reading. I read all the time. I like Dennis Lehane, of Mystic River and Shutter Island, among others.
"When I read him, I feel like I can become a better writer.
"Stephen King, he inspired me when I was young. He has taught me to always put the story first. To tell the story that readers want to read. Not for me or my ego or how well I can write. Not to do anything other than to keep you enthralled..."
And enthralled he has and continues to do so. The Best of Me, Nicholas Sparks' latest novel is available in National Book Store, Powerbooks, and Bestsellers.