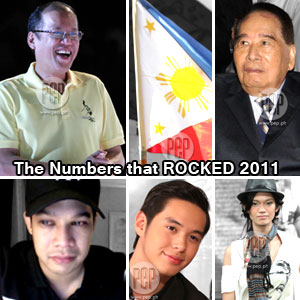 IMAGE 0
---

The year 2011 was not very kind to us.
The first year of the new decade began peacefully enough, only to hit us in the end with one of the worst disasters in decades.

Typhoon Sendong ravaged Northern Mindanao on Friday night. More than 1,000 have already been reported dead, tens remain missing, and homes have been flattened or totally swept away.
Rescue and relief efforts are still ongoing, and will continue up to the new year, when the almost-overwhelming task of rebuilding lives and homes gets underway.
But as Filipinos, we do have an unwavering belief that every new year
brings hope for a new and better life.
And as we pray for guidance to God, Allah, the deities, nature, our ancestors, and whatever else be our choice of succor, we take a lookback at the numbers that shaped the country in 2011.
BASIC FACTS. The population of the world, according to CIA's The World Factbook: 6,928,198,253 (July 2011 estimate).
ADVERTISEMENT - CONTINUE READING BELOW
The population of the Philippines, according to CIA's The World
Factbook: 101,833,938 (July 2011 estimate).
The percent of Filipinos who consider themselves poor, according to
SWS's September 2011 Survey: 52%. This is an increase from the 48% of
September 2010.
The percent of Filipinos who consider themselves to have gone hungry
this year, according to SWS's September 2011 Survey: 21.5%. This is an
increase from the 15.9% of September 2010.
The economy grew to a mere 3.2% this year, compared to last year's
7.3%, according to data from the National Statistical Coordination
Board (NSCB).
The inflation rate has risen. According to data from the NSCB, the
inflation rate for November 2011 is 4.8%, compared to only 3.7% in
November 2010.
The richest Pinoys in the country in 2011, according to Forbes Magazine:
1. Henry Sy (SM) - Net Worth: $7.2 billion
2. Lucio Tan (Asia Brewery, Tanduay Holdings) - $2.8 billion
3. John Gokongwei, Jr. (Sun Cellular, Cebu Pacific) - $2.4 billion
4. Andrew Tan (Megaworld, McDonald's) - $2 billion
5. David Consunji (DMCI) - $1.9 billion
ADVERTISEMENT - CONTINUE READING BELOW
6. Jaime Zobel de Ayala (Ayala Corp.) - $1.7 billion
7. Enrique Razon, Jr. (ICTSI) - $1.6 billion
8. Eduardo Cojuangco, Jr. (San Miguel) - $1.4 billion
9. Roberto Ongpin (Philex Mining Corp.) - $1.3 billion
10. George Ty (Metrobank) - $1.1 billion
NEWS AND POLITICS. President Noynoy Aquino's latest trust rating,
according to Pulse Asia: 72%.
Alleged "pabaon" received by 2011 outgoing chief of the Armed Forces
of The Philippines (AFO), as bared in a Senate hearing: P50 million.
Angelo Reyes committed suicide weeks after.
Ilocos Sur Representative Ronald Singson was sentenced to 1 year and 6
months imprisonment in Hong Kong for possession of illegal drugs.
The House of Representatives voted 212-46 to impeach then Ombudsman
Merceditas Gutierrez.
Months after, the House of Representatives passed a motion to
impeach Chief Justice Renato Corona. 188 Representatives signed the
impeachment complaint.
Senator Koko Pimentel waited four years before he could serve his term as Senator of the Republic. Pimentel, who had filed a complaint of massive fraud, managed to take his seat as lawmaker only after the official resignation of Juan Miguel Zubiri, who occupied Pimentel's seat in the Senate for four out of the six years.
ADVERTISEMENT - CONTINUE READING BELOW
DEATHS AND DISASTERS. In January, 1 bomb exploded in a bus in Makati City, killing 4 passengers.
In May, typhoon Bebeng killed at least 20 in the Bicol region.
In June, tropical storm Falcon killed at least 2 in Luzon.
In July, tropical storm Juaning killed at least 31 in Luzon.
In September, typhoon Pedring killed at least 10 in Luzon.
In December, typhoon Sendong killed at least 1000 in Northern Mindanao.
In September, a 13-year-old boy shot himself after killing his
16-year-old companion in SM Pampanga. The 2 were reported to be
lovers.
At least 4 Filipinos have been executed in China due to drug trafficking.
In April, young actor AJ Perez died from a vehicular accident. He was 18.
TRIUMPHS. The 17-year-old UP student Danica Flores Magpantay is No. 1 in the 2011 Supermodel of the World competition.
The Philippine Azkals scored an amazing 4-0 win against Sri Lanka in their
first-ever victory for the FIFA World Cup qualification.
Manny Pacquiao won 2 boxing matches this year: against American
Shane Mosley in May, and against Mexican Juan Manuel Marquez in
November.
ADVERTISEMENT - CONTINUE READING BELOW
Smart Gilas five settled for 4th place in this year's FIBA Asian
Championship for Men.
University of the Philippines graduate Shamcey Supsup won 3rd runner-up in this year's Miss Universe pageant.
SHOWBIZ. Length of DJ Mo Twister's "confession" video posted on YouTube: 13:24.
Length of the Piolo Pascual-KC Concepcion relationship, from official
confirmation in the press to official announcement of their breakup:
403 days (October 21, 2010 - November 27, 2011).
Number of movies in this year's Metro Manila Film Festival: 7. Genre
breakdown: 2 horror, 1 drama, 2 fantasy, 1 classic-action, 1
drama-comedy.
Number of movies facing controvery in the MMFF: 1.
Manila Kingpin: The Untold Story of Asiong Salonga was hounded by controversy from day one: from not being included in the final list of entries until some entries backed out, to its director Tikoy Aguiluz denouncing the film producer's tampering of his final edit.
Sharon Cuneta was allegedly offered a P1-billion talent fee to transfer to TV5.
Thousands of Filipino fans were awakened when Nora Aunor returned to
the Philippines last August.
ADVERTISEMENT - CONTINUE READING BELOW
Siblings directly implicated in the murder of actor Ramgen Revilla:
3. RJ Bautista has been put to jail, Ramona Revilla has flown
out of the country, Gail is under investigation.


Eat Bulaga! celebrated it's 32nd anniversary in 2011, celebrating this with a coffee-table book recording its 30 years on Philippine television.