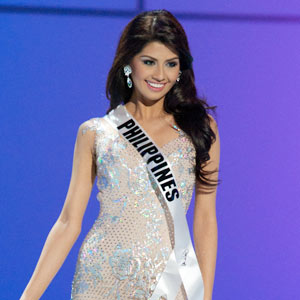 IMAGE 0
---
Shamcey Supsup of the Philippines finished as 3rd runner-up in the Miss Universe 2011 pageant held at the Credicard Hall in Sao Paulo, Brazil earlier today, September 13.
Angola's Leila Lopes bested 88 other competitors to win the the title of Miss Universe.
Lopes, 25, was also the crowd favorite, getting the loudest cheers from the audience. She is the first candidate from Angola to win the crown.
Olesia Stefanko of Ukraine was the 1st runner-up, while Brazil's Priscila Machado was 2nd runner-up, and China's Luo Zilin was 4th runner-up.
This is the second year in a row that a candidate from the Philippines made it to the Top 5 of Miss Universe. Venus Raj finished 4th runner-up last year.
The Philippines has two Miss Universe winners: Gloria Diaz won the crown in 1969 and Margie Moran repeated the feat in 1973.
In the question-and-answer portion, Shamcey was asked by judge Vivica A. Fox: Would you change your religious beliefs to marry the person you love?
Shamcey, who was the only candidate among the Top 5 who did not use an interpreter, answered:
"If I had to change my religious beliefs, I would not marry the person that I love because the first person that I love is God who created me. And I have my faith and my principles and this is what makes me who I am. And if that person loves me, he should love my God too."
Interestingly, Angola's question came from Filipino judge Lea Salonga: "If you could change one of your personal characteristics, which one would it be and why?"
To which, Leila replied through an interpreter: "Thank God, I'm very well satisfied with the way God created me and I would not change a thing. I consider myself a woman with inner beauty. I have my principles. I have acquired many wonderful principles from my family and I plan to follow this through the rest of my life."
ADVERTISEMENT - CONTINUE READING BELOW
The candidates who made it to the Top 10 are: Australia, Costa Rica, France, Panama, and Portugal, who won the online poll which automatically put her in the semifinals.
Top 16 semifinalists are: Kosovo, Colombia, Puerto Rico, Netherlands, USA, and Venezuela.
Special awards were given to Panama (Best National Costume), Montenegro (Miss Congeniality), and Sweden (Miss Photogenic)
Last year's winner was Ximena Navarrete of Mexico.