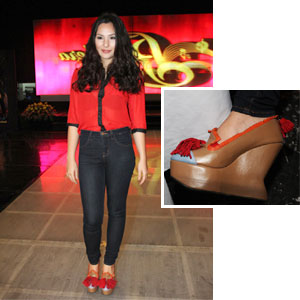 IMAGE 0
---
Gwen Zamora's pair of wedge shoes were scene stealers during the Biritera press conference held last month.
"Ang tangkad mo!" some reporters exclaimed, instantly noticing the three and a half inches added to the actress's 5'4" height.
But aside from making her taller, the wedges—which was created by Italian designer Salvatore Ferragamo in the 1930s—"offer more arch support, reducing foot and ankle problems," according to eHow.com.
Whether the heels are made of cork or leather or rubber or wood, they offer more support than stilettos and other high-heeled footwear because "balance is easier...[thus], reducing the number of falls that accompany high heels."
Gwen's pair was made in Indonesia.
She related, "From a make-your-own shoes store. Someone had it made by them already.
"I have no time kasi...kung magpapagawa pa ako, magwe-wait ako ng...So 'yan yung mga naka-display na."
The store is called "Shoe Bar," and the pair roughly costs, "mga 2,000 pesos."
She added, "Kasi ito ata yung baka hindi nagustuhan so dinisplay."
A CERTIFIED SHOE AND BAG LOVER. When asked how many pairs of shoes she has, she answered, "Oh, wow. I don't want to know."
But she assured it won't rival the collection of the former First Lady Imelda Marcos.
The Kapuso talent said, "Hindi naman kasi, uhm, I tend to give a lot...Like when I know that I don't use it anymore, binibigay ko na."
A VINTAGE STORE. A portion of her shoe collection will earn her extra money.
Gwen revealed her plan of "putting up vintage clothes store."
She resumed, "I'm putting up a store actually with my sister...
"Well, it's actually a vintage store where we sell vintage clothes, vintage bags, vintage furniture."
They already bought some products, and soon, their "actual shop sa may Malubay Street, malapit sa Cash and Carry" will be opened to the fashionistas and bargain hunters.
ADVERTISEMENT - CONTINUE READING BELOW
We asked, "It is an ukay-ukay?"
Her reply: "It is...pero more of a handpicked na ukay. Clothes-wise, nothing will go more than 2,000."