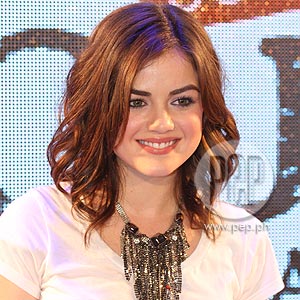 IMAGE 0
---
Hollywood young actress Lucy Hale met her Filipino fans at a special fashion show organized for her by the local clothing brand Bench.
The Pretty Little Liars star was introduced as its newest face for HerBench, the sponsor's female clothing line, last Saturday, February 11, at the SMX Convention Center in Pasay City.
Lucy would be endorsing the new Americana style that the clothing brand has launched, but what does she think of the collection?
"It perfectly describes my style," said Lucy.
The 22-year-old actress said she does not have any particular style but playing the role of Aria Montgomery in the teen drama mystery TV series, Lucy said she has imbibed somehow the fashion style of her character.
"I think that since I started the show, I've seen Aria's style. It's sort of Lucy may have transformed in Aria.
"She definitely has something to experiment more.
"I don't know, I just love clothes. So, if it looks cute on me, I want it!"
How does she keep being stylish especially in portraying her role in Pretty?
"I pay a stylist!" Lucy laughed.
"It's not all my work. I definitely need help.
"You know, like I said, I work on a show that's all about fashion so, that helps.
"Luckily, I'm a girl, like every girl I also love to shop!"
Lucky for Lucy, as the newest endorser, she also got the chance to shop at different Bench stores.
Aside from clothes, Lucy jested she's also open to endorsing accessories if Bench creates its own line.
ON HER MUSIC CAREER. Meanwhile, the event also served as a press conference for Lucy, where the media and selected fans were able to ask her a few questions.
In this segment, the former American Juniors contestant said that her fans might hear her voice once again in the music scene.
ADVERTISEMENT - CONTINUE READING BELOW
American Juniors was a reality singing talent search aired in 2003. Lucy was one of the top 10 finalists at that time.
"I can't tell you officially that you will be hearing from me very, very soon.
"I don't know if there are country music fans here. I'm gonna do country so I'm really excited."
Who are you're musical influences?
Lucy replied, "Growing up, I was definitely a Britney Spears fan.
"Actually now, I love country music. I love Rihanna. I love Lady Gaga. I love everything.
"I love music. If it sounds good, I'll listen to it."
She also related that she'll be going to the multi-day annual music and arts festival in the U.S. called Coachella this year.
"My first time though, so I'm really excited," she smiled.
PRETTY LITTLE LIARS. Duringher short chat with the media, Lucy told the fans that the identity of the mysterious figure named "A" will be revealed in this season's finale.
"A" is the mysterious figure who threatens to expose secrets of Lucy's clique.
"I think some will be surprised, some will probably be not surprised at all. But we're gonna know who 'A' is."
She added, "I'm sure some of you will be like, 'Where is the show going from here? This is what the show is all about?'
"But we're coming back for the third season and we'll start filming in April.
"I'm sure the writers are amazing, they'll come out with some new twists, maybe a whole new 'A.'"
She even said in the end, "I think you guys cannot wait to see the finale."