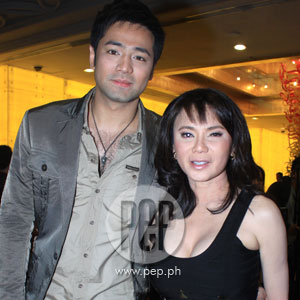 IMAGE 0
---
The controversy was made public on February 10, when Dra. Vicki Belo tweeted: "nancycastilogne you can now openly date @haydenjr. You have my blessings. Hope you'll both be happy."
There was, no doubt, an LQ or lovers' quarrel.
This time, Nancy Jane, the revived singer-version of Nancy Castiglione, is alleged as the intervening party in the eight-month engagement of the longtime couple.
Hayden's string of tweets minutes and hours after his girlfriend's eruptive statement assured tweet-osphere and the public that he and Dr. Belo were only undergoing a "misunderstanding" and that "NO infidelity issue" is transpiring in the course of their relationship. Not now, of course. Or ever again after 2009, when Hayden's videotaped sex-capades went viral on YouTube.
"Keep [your] jokes [to yourselves]," Hayden appealed on Twitter.
The former cosmetic surgeon even assured that he and Dr. Belo "are doing very well" in their relationship.
He concluded his series of tweets with a public declaration of his love for the woman he vowed was the only one for him with: "@vicki_belo, I love you... And yes, I love you more than Temple Run."
These past few years, Twitter has announced a lot of breakups and falling-outs. Remember Kris's intriguing tweets that insinuated her marital problems with ex-husband James Yap?
In this case, however, people are somewhat indifferent.
One comment posted by icabupinni read, "Ms. Vicki Belo, first and foremost you are a doctor. Bakit ang simple misunderstanding between your young fiancee ay kailangan pang ibroadcast sa twitter with matching name dropping? Naman, daig pa ang mga teenager!"
And out of 250 votes from the PEP netizens, 72.80 percent said they are "not interested" in the issue.
Meanwhile, an optimistic 14.80 percent believed, "Magkakaayos din sila," and 12.40 percent predicted, "Breakup na ito."
Does this in fact suggest that Nancy Castiglione's claims that she is oblivious of having a hand in the breakup, fell on deaf ears?
ADVERTISEMENT - CONTINUE READING BELOW
Did it even matter that Dr. Belo went ahead to confirm on Startalk TX that she has finally let go of Hayden "so that they don't have to be hiding."
The weightiest of Vicky's statements during the said interview is her admission that "this was bound to happen" because Hayden is some 20 years her junior.
"Yes, we were in love but I am not ilusyunada to think that it will be for life given the age gap."
There must be truth in this line after Hollywood ex-couple Demi Moore and Ashton Kutcher ended their six-year marriage.
In the case of Vicky and Hayden, however, a purported third-party involvement caused one to give up. Let us emphasize that this is not the first time that Hayden cheated on Vicky.
Looking deeper into her further statements, "Sometimes, relationships just don't work out. It's sad but there's no one to blame."
Perhaps there really comes a point when even the most convincing and compelling relationships become too unbearable to handle. Indifference, not anger nor rage, is the response it elicits.
The same way Dr. Belo has nonchalantly acquiesced to the failure of her longtime romance with Hayden, so has the public probably detached itself from the issue.
Was there even hope that they would make it? Or was their romance just an entertaining piece of fiction that salted and peppered the mundane?
The polls have it. Who cares?