IMAGE Nikko Tuazon
---
Celebrating his 20th year in the fashion industry, Dubai-based Filipino fashion designer Michael Cinco opened this year's Philippine Fashion Week Holiday 2013 with his couture collection called "The Impalpable Dream of Russia."
As expected, the renowed couturier filled up the Hall 3 of the SMX Convention Center in Pasay City last May 22, 2013.
Michael Cinco presented his breathtaking creations featuring his trademark of heavy beading, complex patterns and crystal embellishments, which will effortlessly find their way to top local and international fashion magazines.
In a quick interview after the show, the Dubai-based designer shared that the inspiration behind his latest collection was the glamorous czarinas of the opulent Russian empire and the classic ballet, Swan Lake.
The fashion show started off with Philippine Fashion Week producer Joey Espino's short opening remarks, praising the new breed of Filipino designers who are passionate about their goal of making the Filipino fashion industry world-class.
Unlike the complex designs of the Dubai-based designer, the runway was simple yet dark with only black cloth drapings at the back illuminated by white-and-blue lighting. The operatic remix of the Grammy award-winning singer Rihanna's Stay provided drama and a royal Russian ambience.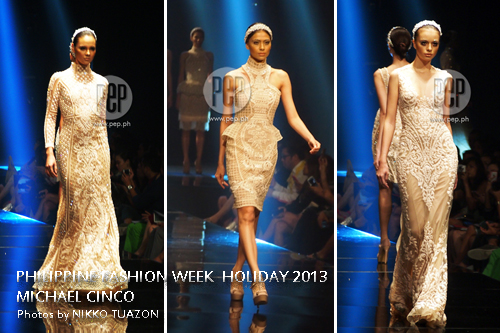 ADVERTISEMENT - CONTINUE READING BELOW
Michael Cinco opened the show with stunnning nude-colored floor-length gowns and dresses with meticulous embroidery and architectural patterns which are both sexy and elegant at the same time.
Extravagant crystal embellishments, pearl beadings and intricate patterns appeared as if they were drawn by the designer himself on the models' bodies.
Michael's entire collection featured this technique but used different variations of delicate embroidery, gorgeous patterns and modern silhouettes on his monochromatic and grandeur couture collection.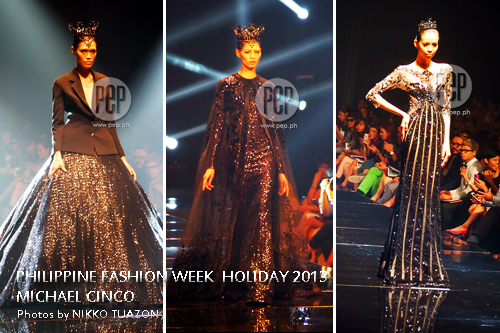 For the second "act" of his fashion show, heavily-embroidered serpentine gowns and dresses accessorized with stunning black tiaras highlighted elegance and drama.
This set of gowns exuded a dark and powerful yet romantic look— a stark contrast to the first act.
One is surely to be reminded of the Black Swan in Pyotr Ilyich Tchaikovsky's Swan Lake.
"Stunning" was definitely an understatement for the three Swan Lake finale gowns that are definitely fit for a queen – or in this case, a glamorous czarina.
ADVERTISEMENT - CONTINUE READING BELOW
The first gown was a blood-red-and-black fully-sequined gown with multi-layered train and built-in gloves. This gown was worn by English singer-composer Paloma Faith during the punk-rock inspired fashion event of the year, MET Gala 2013.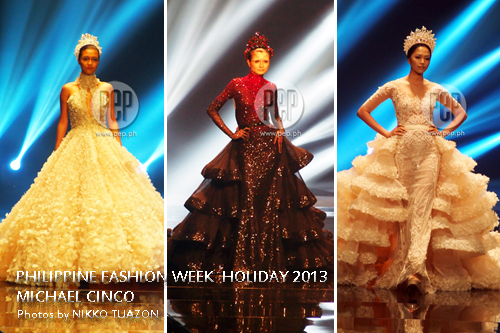 The second gown was a haltered full gown featuring a key-hole on the bodice and flouncing petal-like patterns at the bottom of the voluminous tulle skirt which definitely looked as if the model was floating as she headed towards the end of the runway.
The last "Swan Lake gown" was a flamboyant floor-length heavily-embroidered nude-colored gown with a detachable multi-layed train which looked as regal as the first two finale gowns.
Supermodels Charlene Almarvez and Charo Ronquillo wore Michael Cinco's Swan Lake-ish finale gowns during his Philippine Fashion Week Holiday 2013 show.
Other famous models who walked for Michael Cinco include Asia's Next Top Model runner-up Stephanie Retuya, top model Jasmine Maierhofer and ex-PBB Teen Edition 2008 housemate Valerie Weigmann.
ADVERTISEMENT - CONTINUE READING BELOW
To view some of Michael Cinco's creations, visit the Michael Cinco: The Impalpable Dream of Russia gallery.