On the pilot airing of GMA-7's new Sunday noontime show Sunday All Stars on June 16, a new loveteam stirred viewers with hefty doses of "kilig."
Surprisingly, it wasn't a duo of a charming young lady and a dashing leading man that got the crowd screaming and cheering.
Instead, they were two handsome men singing an initially wholesome duet to promote their show, which ended up being "romantic."
Dennis Trillo and Tom Rodriguez certainly are not your average TV couple.
The two play gay lovers in the teleserye My Husband's Lover, where Tom plays the closet-gay husband of Carla Abellana, with Dennis as his high school love rekindled.
MY HUSBAND'S LOVER. GMA-7 takes a big, bold step with a new teleserye that focuses on a rather taboo situation.
The show chronicles the life of Lally (Abellana), a woman who marries the man of her dreams, but eventually discovers that something is not right about him.
Lally's husband, Vincent (Rodriguez), turns out to be a closet-gay and has been carrying on an affair with an openly gay man, his greatest love, Eric (Trillo).
Despite our society's growing openness to gay themes in mainstream media, it still comes across as a shocker to see two men acting out romantic scenes onscreen.
Many— perhaps the prudes— would raise their eyebrows at the thought, and would even go as far as making public protests to have the show junked.
But for some reason, the team-up of Dennis and Tom, despite the short amount of time they've shared together onscreen so far, is garnering mostly positive feedback and reviews.
Their duet in SAS is one proof of their audience impact, but that was only the tip of a huge iceberg submerged in the online world.
Since the show's pilot airing on June 10, Twitter timelines and Facebook feeds have filled up with TomDen hashtags, along with words expressing how much viewers love the show.



WHAT'S UP WITH TOMDEN? At first, it was only the gay men and women showing support for what is supposedly a breakthrough show in mainstream media.
But later on, straight women and, yes, even men are stepping forward to say that they are looking forward to watch the show every night.
We zero in on why Pinoys are getting hooked on MHL, particularly the TomDen loveteam.
Is it the plot?
Yes, as it is always interesting to see primetime teleseryes that veer away from the conventional star-crossed lovers theme or the age-old "nawawalang anak" type of story.
With My Husband's Lover, we see a kind of love tale that is real— something that happens everywhere around us, yet we tend to ignore most of the time due, perhaps, to the stigma of the gay culture penetrating our still backward sensibilities.
Some people might find this relatable, to others educational or eye-opening, but any show that demonstrates a different approach to reality is always welcome to discerning viewers.
Is it the actors?
Double yes.
We've seen Dennis Trillo in a number of roles that range from the cute boy-next-door to something more offbeat, and he is known to do well in most of his projects, earning him a tag as one of GMA-7's prized leading men.
Tom Rodriguez, on the other hand, is a revelation. Coming from virtually nowhere— through the ABS-CBN reality show Pinoy Big Brother: Double Up, he went ahead to do a number of TV projects that ranged between bit and lead roles.
He was more lauded, though, as a theater performer when he took the title role in Atlantis Productions' stage musical presentation of Aladdin.
In one interview with theater actress Rachel Alejandro, she called Tom as "the next big thing" in theater. Indeed, his capabilities as an actor and singer are two things to look forward to.
Knowing what Dennis and Tom can do, it is but exciting to see how their skills would figure in their roles as gay lovers.
Not to mention they're both so hot, it really is a fascinating treat for the senses to watch them in action.
FEELING THE CHARACTERS. In a previous interview with Tom last June 17, the 26-year-old actor related that gender never counts as a factor when he portrays his character Vincent.
READ: Tom Rodriguez happy about public response to TomDen team-up with Dennis Trillo
"Kailangan talagang i-feel mo ang character, na hindi mo iisipin ang kasarian. Kailangan mong isipin ang pagmamahal [ni Vincent] kay Eric.
"From there, buti naman at nagwo-work. Kasi, kapag cut na, kapag nagka-cut na, wala na.
"Kung on-cam na, kailangang buuin mo kung sino siya sa buhay mo."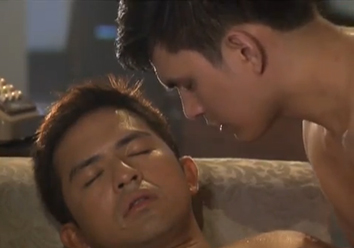 In the beginning, Tom did not think that a gay-centric teleserye would sit well with Filipino viewers.
"Siguro lang, ito lang ang masasabi ko na proud ako na kami ang first na ganitong klaseng loveteam.
"Kasi before, kung may nagsabi sa akin a few weeks ago na posibleng ganitong klase, sasabihin ko sa kanila, 'Hindi, nasisiraan na sila ng ulo. Hindi posibleng ganyan. Hindi papatok sa tao.'
"Pero, sobrang mali ako."
And so the question remains: Are we ready to accept gay loveteams and gay love stories in mainstream media?
Our fearless answer is, "Yes."
Mainstream Pinoy media has finally learned to man up (pun intended) and take the initiative to ease Filipino audiences into new ideas.
In the words of Tom himself, "We're doing the right thing, we're on the right path."