IMAGE GA Granali/Instagram @drewarellano/YES! Magazine
---
On July 24, all over Facebook and other social networking sites, a video of Iya Villania and Drew Arellano went viral.
It chronicles Drew's romantic effort to surprise his long-time girlfriend with a gallery of photos that defined how she "shined" in the past nine years that he has dated her.
It was a beautifully stylized video, almost like the ones made for weddings. Everyone who watched it expected to finally see a marriage proposal.
Unfortunately, it fails to meet expectations.
"Paasa!" says one commenter, who felt disappointed when she learned that it was all for a shampoo brand's new campaign.
Then again, the video led people to discuss: "What are these two waiting for?"
ENGAGED OR NOT? The issue of whether or not Iya and Drew are already engaged is something that continues to puzzle the showbiz community, including the press.
Although in YES! Magazine's May 2013 issue, running coach Rio dela Cruz revealed that the travel show host has already popped the question, and his Kapamilya star girlfriend has said yes.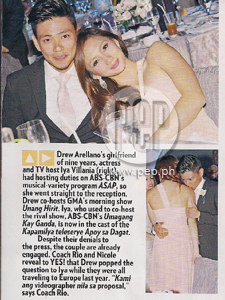 ADVERTISEMENT - CONTINUE READING BELOW
"Kami ang videographer nila sa proposal," he mentioned in passing when he talked about their "double date" trip to Europe last year.
Then again, Iya and Drew have yet to confirm this information to the public.
A MATTER OF TIME. Engaged or not, Iya and Drew have both acknowledged in their recent interviews that marriage is not something blurred in their timeline.
"Papunta na doon yun," Drew even said in an interview last January.
READ: Drew Arellano on rumored engagement to long-time girlfriend Iya Villania: "Tingnan n'yo na lang yung singsing…"
So again, we go back to the question: What are these two waiting for?
This writer has a fearless conjecture about the situation.
Given the statement made by Coach Rio, who is a close friend of both—Drew was one of the groomsmen in Rio's February wedding to Nicole Wuthrich—it is highly possible that Iya and Drew are indeed engaged.
They are probably just waiting for the perfect time and venue to announce it.
Remember that Drew's father, the late radio host Atty. Aga Arellano, passed away only last May due to cancer.
Drew's family, obviously, are still brokenhearted, but coping. Even Iya was in tears when she was told that her would-be father-in-law had only a short time to live.
"Actually, anak na anak na nga niya yun [Iya], e, grabe. Lukang-luka yung tatay ko sa babae na yun," Drew said about Iya's relationship with his dad.
Whether or not the Arellanos believe in old practices and superstitions, it is understandable if they decide to hold off major celebrations—such as weddings and engagement parties—for at least a year, following the death of a family member.
ADVERTISEMENT - CONTINUE READING BELOW
However, their terms of endearment to one another, Hubby and Wifey, are obvious giveaways that Iya and Drew will be headed for the altar real soon.
So now we ask, "When is the perfect time?"
To quote Iya in her interview last February, "According to my senses… I'm sure malapit na."