---
The most widely consumed beverage in the world after water—tea—has been known to have great health benefits.
These benefits can be enjoyed not only by drinking tea, but even while relaxing in a posh urban resort setting.
Thémaé, which originated in Paris, is an exclusive range of treatments based on the therapeutic properties of tea.
And this service is now being locally offered at the Sofitel Philippine Plaza, which launched Thémaé at Le Spa together with its Sofitel Wine Week at La Veranda, last September 4.
Hosted by Issa Litton, the exclusive affair began with a short program, announcing the partnership of Thémaé and Le Spa.
Media representatives learned the various techniques and rituals that make the whole Thémaé experience.
The different kinds of tea and their benefits were presented: antioxidant green tea, regenerating white tea, soothing red tea, and stimulating black tea.
Afterwards by the pool side, Sofitel's Food and Beverage Director Damien Marchenay signaled the opening of Wine Week by sabering a bottle of champagne.
ADVERTISEMENT - CONTINUE READING BELOW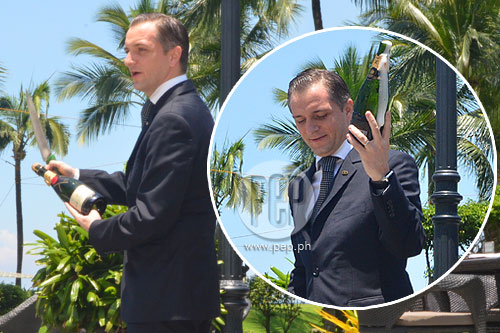 Sabrage is a technique for opening a Champagne bottle with a sabre and has been observed by the French on ceremonial occasions dating back to the Napoleonic era.
A wine and cheese pairing ceremony was then conducted at the La Veranda by Bernard Flour, managing director of the hotel's Le Cellier.
ADVERTISEMENT - CONTINUE READING BELOW
Members of the press were treated to a sumptuous lunch, courtesy of Spiral buffet.
To cap the afternoon, the guests were invited to a thirty-minute Instant Glow Facial at Le Spa.