One of the many things that Germans and Filipinos have in common is their love of beer and food, and the best time for the two nationalities to celebrate it together is during the much-awaited annual Oktoberfest.
On October 18 and 19, the Sofitel Philippine Plaza hotel's newly renovated Harbor Garden Tent will be converted into a Bavarian-themed setup to house all the beer-drinking activities.
Presented by the German Club, this year's beer festival also serves as the group's celebration of their milestone 75th year in the Philippines.
According to hotel general manager Adam Laker, "It is our pleasure to play host to this year's 75th Oktoberfest at the Sofitel Philippine Plaza on its fourth year.
"Through the years, we have seen how Oktoberfest has helped promote camaraderie among Filipinos and Germans."
Michael Scheile, chairman of the Oktoberfest project, also added that, "This year's 75th anniversary of the German Club, Oktoberfest will be a milestone not only for the German Club, but also for the club's objective of promoting the Philippines as a valuable destination for investment to German businesses."
Aside from the free-flowing beer, this year's Oktoberfest will have a grander and colorful spread of authentic Bavarian cuisine, prepared by Eric Costille, the hotel's executive chef, and supported by the German Club's chefs.
Music will provided by the well-known group Bavarian Sound Express from Munich, Germany.
SNEAK PEEK. Members of the media sampled the "Bavarian spirit" last September 17, at the hotel's Mindanao Ballroom.
Authentic Oktoberfest tables and benches, set in a festive beer garden motif, were decorated with miniature Philippine and German flags, as well as blue and white Bavarian flags.
Each table was provided with cold, refreshing beer served in huge glass dispensers and one-liter mugs.
Female wait servers were dressed in traditional Bavarian dresses called dirndl, while the male staff wore lederhosen or leather breeches with suspenders and Alpine hats.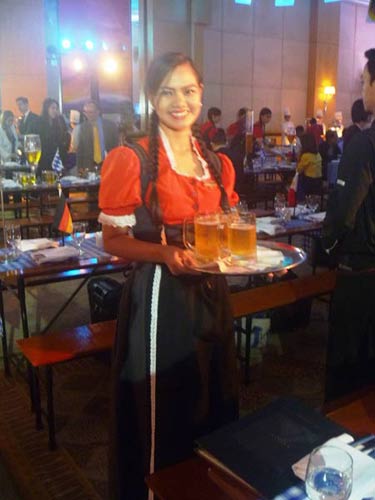 A wait staff wearing a dirndl.


Traditional Bavarian song and dance numbers— with matching tutorials for the guests— served as entertainment. Several guests also participated in the beer-drinking contests.
Of course, food is not to be forgotten.
The German fare included goulashsuppe, goulash soup with a bread selection; assorted charcuteries with condiments, such as the Bavarian cheese delicacy called obatzda; assorted salad choices; and carvings of whole ham with beer sauce, rotisserie chicken with pepper sauce, and many more.
The main course involved a variety of choices: Bratwurst ring and cheese krainer, Munchner Weisswurst, grilled Hungarian sausages with an assortment of mustard, sauerkraut with smoked pork belly, Bavarian meat patty, two kinds of Bavarian dumplings (bread dumplings and potato dumplings with croutons), and Lyoner potatoes.
Finally, there's mouth-watering desserts: apfelstrudel a.k.a. apple strudel or baked apple pie filled with cinnamon, raisins, and roasted bread crumbs, served with vanilla sauce; sachertorte a.k.a. chocolate cake or torte; and Bayerische creme a.k.a. cooked custard with egg yolks, gelatin and whipped cream, served with strawberries.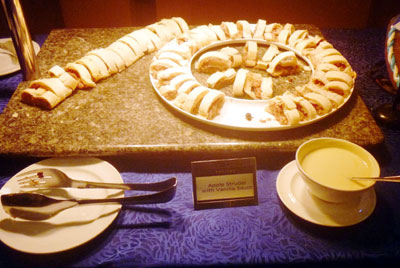 Apple strudel with vanilla sauce.
For inquiries, please call the German Club at telephone numbers (632) 817-3552 of 818-4236 (for entry and raffle tickets) or Sofitel Philippine Plaza Hotel at (632) 832-6988 and (632) 551-5555 ext. 6988 (for room reservation). You can also email them at germanclub@germanclub.ph or fbreservations@sofitelmanila.com.
This year grand celebration also includes a raffle draw with over PhP4 million worth of major and minor prizes donated by sponsors. Proceeds will go to the German Club's welfare projects. The Bloomfields, one of Manila's best live bands, will be dishing out good, old retro 1960s rock-and-roll music on October 19. Oktoberfest will also be celebrated at the Crimson Resort & Spa at Mactan Island, Cebu on October 25.