IMAGE Noel Orsal
---
"Parkour is an amazing thing, and if you ask a parkour artist, they view it as an art form," said Twilight saga star Taylor Lautner at a press conference in Manila during his visit last August.
The young Hollywood star was in town for his endorsement campaign with clothing brand Bench.
"I mean, it's much more complicated than just running and jumping off the wall or a building," Lautner said, adding that he trained in the French sport for his latest movie Tracers, directed by Daniel Benmayor. The movie is scheduled to hit cinemas in 2014.
On the homefront, Gerald Anderson said he had heard of parkour when was preparing for his role in the TV action mini-series Agimat Presents: Tiagong Akyat.
What is Parkour exactly?
FRENCH INVENTION. Parkour, or l' Art du Deplacement, is an "art of movement" wherein a parkour artist, known as a trauceur (male) or traceuse (female), "moves freely towards or over any obstacles he/she may encounter, traversing from one place to another as effective as he/she can," according to the website parkour.ph.
Georges Hebert, a French marine, developed the discipline known today as "methode naturelle," or natural method, when he coordinated the rescue of more than 700 people during the eruption of Mt. Pelee in Saint-Pierre, France, in 1902.
This method, according to the website universalparkour.com, incorporates walking, jumping, quadrupedal movement, climbing, balancing, throwing, lifting, defense, and swimming.
Given its "natural" concept, practitioners of the method train barefoot and wear nothing but shorts.
Hebert lived out his personal motto "etre fort etre utile" (be strong to be useful), which has since become the credo of his followers. The French Navy has also adopted both Hebert's method and motto in training the marines.
In 1939, a Vietnam-born French-national soldier learned the method in his jungle combat training.
ADVERTISEMENT - CONTINUE READING BELOW
He was Raymond Belle, whose son, David, years later would also become a practitioner of the natural method.
During his teenage years, David formed a group called Yamakasi, along with his friends William Belle, Chau Belle Dinh, Frederic Hnautra, Yann Hnautra, Laurent Piemontesi, Charles Perriere, Malik Diouf, and Sebastien Foucan.
Yamakasi means "strong body," "strong spirit," or "strong person" in a Central African dialect.
The group adapted the natural method, incorporating into it their childhood games and moves they learned from action movies, resulting in a new discipline for developing physical and mental capabilities.
When David Belle and Sebastien Foucan separated from Yamakasi, they called the discipline "parkour" to emphasize its concentration on utility and freerunning, which focuses on freedom of movement and finding your own way.
Essentially, parkour is a sport that demands physical and mental strength from its practitioners. But ultimately, it is a lifestyle.
PARKOUR IN THE PHILIPPINES. The discipline became popular in the country with the birth of the Philippine FreeRunners, whose practitioners came from different backgrounds and skills.
Other groups sprang up, among them Parkour Philippines (PKPH, 2004) and Philippine Parkour/Freerunning Association (PPFA, 2008).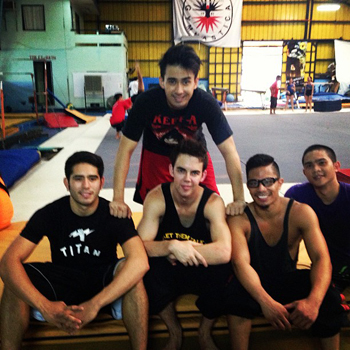 Gerald Anderson (far left, seated) with parkour artists Eddy Sims (second from left, seated) and 2J Pantoja (second from right, seated). [Borrowed from Instagram @andersongeraldjr]
Robby Apelo of the PPFA, who has been active in the discipline since October 2010, said parkour "develops your overall coordination."
Speaking from experience, Apelo said parkour enables him to have a fit and active body.
"It makes me stronger and enables me to achieve a healthy lifestyle. Mentally, it has boosted my confidence and determination to succeed even through difficult times," he said.
Apelo related he became interested in parkour after watching some YouTube videos.
"It just blew me away. I never thought movement like that was possible. Growing up, I was a very athletic and adventurous kid, so I told myself that maybe I should give it a try," he said.
ADVERTISEMENT - CONTINUE READING BELOW
Ben Cabarroguis, a PPFA trauceur in Art Du Deplacement and Parkour Teaching (A.D.A.P.T.) Level 1 certified instructor, said his love for the movement was sparked by the chase sequence of the James Bond movie Casino Royale.
"I watched Casino Royale and was hooked on the cat-like movement of the dude that was being chased by Bond. When I got home, I searched 'cat-like movement in Casino Royale' and parkour it was," he said.
He said he was "very motivated" because he "had a lot of personal barriers to overcome."
By "barriers," he meant he was "fat, weak and restrained."
Since his entry into the sport in 2005, Ben has come to realize that parkour is more than just "about the moves, being able to be strong, flow-y, and agile."
"The psychological and spiritual growths are what fuels me," Ben asserted.
Elaborating, he said, "Your perspective on life and other things will change. The way you approach problems will be simplified.
"You learn the true meaning of displacement. You will learn to be disciplined. You won't settle for less and you always try to keep changing, improving and evolving.
"For as long as you can move, you can do amazing things just so long as you will it."
Just as Taylor Lautner and Gerald Anderson are drawn to the sport, many people all around the world follow the discipline.
Even women have become strong contingents of the movement— this writer included.
PARKOUR IN THE MEDIA. In addition to Taylor's upcoming movie Tracers, Casino Royale, and Gerald's Tiagong Akyat, parkour has been featured in several mainstream media channels, boosting further its popularity and interest among the public.
Movies that have incorporated parkour in some scenes include Breaking and Entering (2006), Live Free or Die Hard (2007), The Incredible Hulk (2008), Prince of Persia: The Sand of Time (2010), Tron: Legacy(2010), Tekken (2010), Pirates of the Caribbean: On Stranger Tides (2011),Twilight Saga: Breaking Dawn Part 1 (2011), The Green Hornet (2011), Harry Potter and the Deathly Hallows: Part 1 (2010) and Part 2 (2011), Abduction (2011, also starring Lautner), Planet of the Apes (2011), Johnny English Reborn(2011), Sherlock Holmes: A Game of Shadows (2011), and The Hunger Games (2012).
ADVERTISEMENT - CONTINUE READING BELOW
In 2001, the group of David Belle starred in a French film called Yamakasi. Members of his group had also starred in other action films.
PPFA trauceurs have also appeared in GMA7's Party Pilipinas, Sunday All Stars, and Eat Bulaga!, and in ABS-CBN's Matanglawin.
They were also featured in the network station IDs of ABS-CBN and TV5.
Parkour has also penetrated the advertising and music scenes, with the music industry giant MTV USA holding the Ultimate Parkour Challenge in California.
Premier traceur Daniel Ilabaca has also been featured in the music videos of the songs "Proper Education" (2006) by Eric Prydz and Pink Floyd; "Love Don't Let Me Go (Walking Away)" (2007) by David Guetta and The Egg and "Midnight Madness" (2008) by The Chemical Brothers.
The local band Chicoscience has featured as well practitioners from Parkour Philippines in the video of their song "ChicoSci Vampire Social Club" (2007).
Parkour has also entered the realm of video games, particularlyVector Parkour, Mirror's Edge, The Saboteur, Prince of Persia, Assassin's Creed, Brink, and the soon-to-be-released game, Devil's Third.
At the Mall of Asia Arena last August 18, PPFA performed at Taylor Lautner's Bench-setter Fun Meet.
WHERE TO TRAIN. PPFA will be holding a free one-day parkour workshop on October 28, 2013. Venue will be announced later.
PPFA holds regular flow classes every Wednesday from 9:00 a.m. to 11:00 a.m. and flow workshops every Sunday from 4:00 p.m. to 6:00 p.m. at the Ultimate Fitness Gym in Metrowalk, Ortigas Center, Pasig City.
Workshops are also regularly conducted at Club Gymnastica in Pasig City, where Gerald Anderson trains.
Parkour is being popularized in campuses, among them De La Salle University-Manila, Ateneo de Manila University, University of the Philippines-Diliman, and University of Santo Tomas.
In the provinces and other areas, the affiliated teams and organizations under PPFA include Team Fish Cavite, Team Shift Quezon City, Parkour La Union, Parkour Nagare San Pablo, Laguna, Pampanga Freerunners, BulFrOg (Bulacan Freerunners Organization), Bicol Freerunners, Parkour Sugbo Cebu, PK Bacolod, Tacloban Freerunners Samar, and PK Davao.
ADVERTISEMENT - CONTINUE READING BELOW
For inquiries on Parkour/Flow Workshops with PPFA, visit www.parkour.ph or contact the author at dulcinea.allena@gmail.com or Ben Cabarroguis at ben@parkour.ph.