Here's to people who can't get enough of dumplings, dim sum, and other Chinese delicacies—like actress Kim Chiu, who has once professed her love for siomai.
Crowne Plaza Galleria Hotel's in-house Chinese restaurant, Xin Tian Di, is a haven for folks who love oriental fare.
The restaurant offers eat-all-you-can dim sum daily for lunch (Php 1,188 nett per person), and Sundays for breakfast (Php 588++ per person).
You begin your gastronomic journey by ticking off items on an order checklist provided by the friendly wait staff.
Choose from more than 50 single-serve dishes that are each cooked and served hot upon ordering.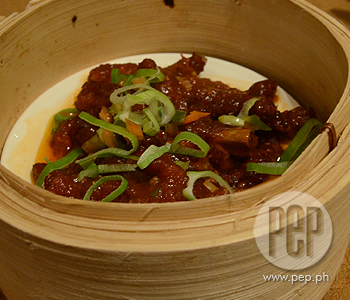 Chicken feet
It is a good way to indulge on your favorite Asian delicacies, like flavorful chicken feet that's a delight to eat because of its soft, falls-off-the-bone consistency.
Shrimp lovers will also have a good time munching on the classic ha kao, which contains steamed whole shrimp meats.
Salmon taro puff
The salmon taro puff, with its unique crunchy outer covering, is also a must-try.
You'll be surprised at how the sweet and salty tastes of its two main ingredients end up complementing each other inside your mouth.
The culinary wonder that is the xiao long bao (seen in main photo) is also a good pick.
Many have wondered how chefs are able to cook this dish without breaking the wrapper or crust and keep the liquid inside it intact.
Just be careful not to eat it right away, as the flavorful soup inside is extremely hot. It's best to wait a couple of minutes to make eating more enjoyable.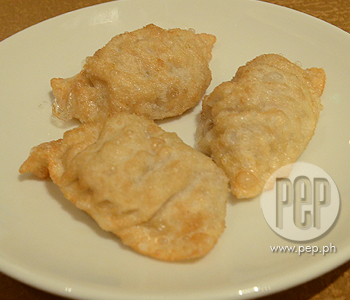 Pan-fried xiao long bao
The xiao long bao also comes in pan-fried variety, and it goes really well with the mildly sweet wasabi-mayo dip.
Noodles and soups are also served in the restaurant, as well as congee and fried rice dishes, like yang chow.
Of course, it's always recommended to end a meal with a sweet treat.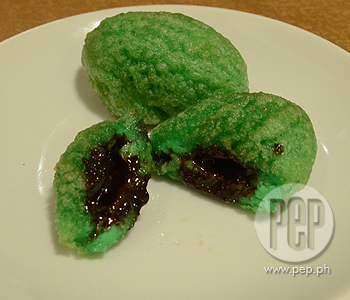 Ampalaya buchi
You can't go wrong with their one-of-a-kind ampalaya buchi with chocolate filling.
Don't let its name scare you off, as it is only named such because of how it looks.
Finally, a serving of ice jelly with citrus juice to cap off your meal helps clean off youe palate and leave a refreshing feel in your tongue.
All dishes are also available for ordering a la carte.
For table reservations, call (02) 633-7222 or email fandb.reservations@ihg.com