93 DAYS TO GO. Ever wondered how celebrities always have perfect hair?
Of course, they get to work with the best stylists in the country, plus they have access to the best hair care and styling products and services.
But did you know that one of their best-kept secrets lies in the hands of another celebrity, Jennifer Sevilla?
Yes. The former '80s teen star, who is still pretty much active in showbiz, has become the go-to person of many stars for their hair styling needs, since she put up her business, Lynelle Hair Fashion, in 2004.
Among her top-selling products—and a perfect gift idea for Christmas—is her own brand of human hair clip-on extensions called Keira.
These hair extensions are used by celebrities to fill up their heads with more hair, creating enough volume to achieve the perfect curls and waves, like this look on Marian Rivera at the FHM Victory Party last July: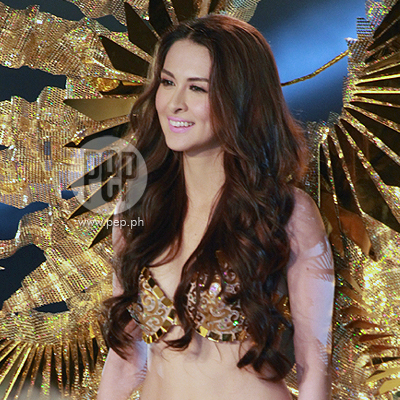 (Photo by Noel Orsal)
Keira has12-inch, 16-inch, and 22-inch varieties that come in black, platinum blonde, burgundy, different shades of brown, and other common hair colors.
They range from Php 350 to Php 1,600 per piece, or Php 2,500 to Php 5,000 for packaged sets.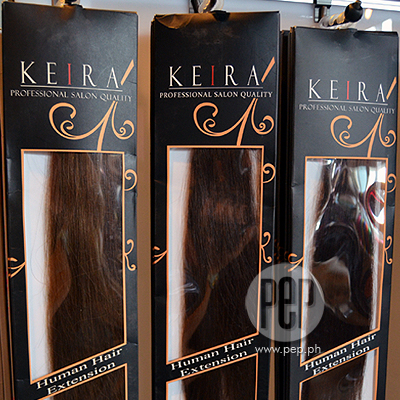 Keira Human Hair Extensions (Photo by Demai G. Sunio-Granali)
There are also special colors called the Combi Hair, which Jennifer described to PEP.ph (Philippine Entertainment Portal) in an interview: "Ito iyong vertical combination of hair colors—honey blonde, which is more subdued than a platinum blonde, combined with mocha and brown.
"Now, it's good for students, because even if they like to put highlights on school days, siyempre bawal sa school, so they can still put on the highlights.
"Plus, human hair siya, so curl, plantsa, use heat, tease it, spray it, it will be okay because it's 100% human hair."
There is also the Ombre extension, which is very popular now among young fashionistas, and even personalities like Tessa Prieto-Valdes and Cherie Gil.
Jennifer says, "Ito, iyong gradation of color niya is the top is dark, then you go lighter as you go below. So, ang effect is parang humaba lang iyong hair color mo.
"In these situations na kulang tayo sa hair or we want instant length, instant volume, or we also like instant highlights or low lights, ito iyong option mo."
HUMAN HAIR WIGS AND TOUPEES. Of course, full wigs and toupees are what started Jennifer's business, and she now has over a hundred styles to offer to customers.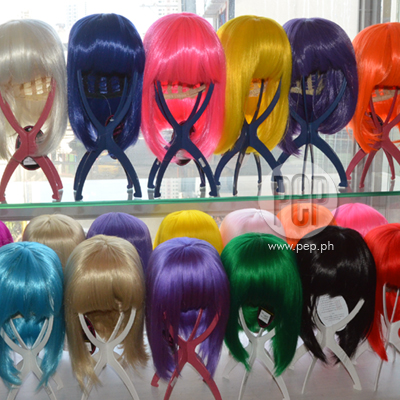 Lynelle Hair Class B wigs (Photo by Demai G. Sunio-Granali)
Class B party wigs, in 18 different colors and four different lengths, are available for Php 500 to Php 2,500 each.
Real-looking Class A wigs made of authentic Japanese Kanekalon fiber range from about Php 1,000 to Php 2,500.
These are perfect gifts to buy for your friends or kids who are into cosplaying, or simply experimenting with different looks.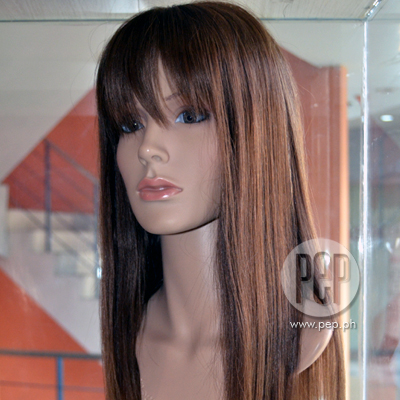 Lynelle Hair Human Hair wigs (Photo by Demai G. Sunio-Granali)
Human hair wigs, which sell from Php 5,000 to Php 22,000, are good investments for those who have relatives or friends suffering from hair loss or hair-thinning problems caused by serious illnesses.
"You know, the heart of Lynelle is really what happened to my mom," says Jennifer, who lost her mother to lung cancer a few years back.
"We saw how vital it was for women, especially when… You know how they get devastated by iyong mga problems sa health, like ganyang nagki-chemo? Devastating pala iyong mahulugan ka ng buhok.
"So, seeing her na pag nagsusuot siya ng wig lumiliwanang iyong mukha niya… kasi kapag ganyang nagki-chemotherapy, ang tao kailangan natin maging mas positive kasi directly niyang na-a-affect iyong physical well-being.
"So, para mas malabanan ng katawan ang sakit, hindi naman sa mas jolly, kundi iyong deep inside you, you feel na it's still you. And when you look in the mirror, at least malapit doon sa how you used to look.
"Of course, tutubo uli ang hair, as we always tell our patients na clients, pero iyong impact noon na the day na malagas na lahat, at least meron ka na talagang something na pag suot-suot mo, you feel good about yourself."
Lynelle Hair Fashion has a range of other hair styling and hair care products, which are all available in their branches at V-Mall Shopping Center, Greenhills; Dela Rosa Square, Makati; Tutuban Prime Block Mall, Manila; and J Centre Mall, Cebu.
Kiera hair extensions are also available in over 40 salons nationwide. International orders are also accepted via their website www.lynellehair.com.