83 DAYS TO GO. Though many perceive him as a "ladies' man," Enrique Gil also happens to be the typical guy's guy.
When not swamped with work, one would find him playing video games at home.
This Christmas, the She's The One star hopes to receive a Playstation 4 console.
"Oh, my gosh! What I'm really dying to receive this Christmas... Playstation 4.
"Super fanatic ako ng video games kasi, e," he told PEP.ph (Philippine Entertainment Portal) in an exclusive interview last October 10.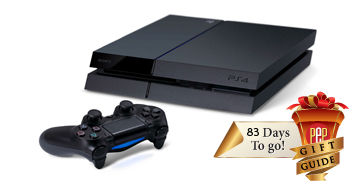 (Photo from us.playstation.com)
His favorite games include classic role-playing games or RPGs such as Resident Evil, Call of Duty, and Grand Theft Auto.
"Hindi ako mahilig sa... mas more on action, horror, first person shooter.
"Ayoko ng mga maliliit na [characters ng] RPG, parang mga Warcraft. Hindi ako mahilig sa gano'n.
"Gusto ko iyong mukhang totoo, iyong action-packed. A game for the big boys, man! Iyong gano'n, iyong kita iyong baril, gano'n."
Like Enrique, anyone gamer will definitely feel grateful and happy when they find out what Santa has got them for Christmas.
Now, there are many game consoles out there.
But as for Enrique's current one, which is the Playstation 3, the season's top new releases—and must-haves—are Grand Theft Auto V, NBA 2K14, Splinter Cell: Blacklist, FIFA 14, and Beyond: Two Souls.
Also coming up are Batman: Arkham Origins, Call of Duty: Ghosts, Gran Turismo 6, and Lightning Returns: Final Fantasy XIII
This listing is according to local gaming and multimedia retailer Datablitz.
Prices of Playstation game discs vary and range from P 1,000 to P 3,000.
As for the Playstation 4 console, a formal announcement has yet to be made on when it will be released in the Philippines.
It will be available in select countries by November.
In the US, the product will be released in November retail for $ 399 or about P 17, 200.