79 DAYS TO GO. What's the word to call a person who is hard to surprise?
Rhian Ramos begged the question when PEP.ph (Philippine Entertainment Portal) had the chance to interview her on October 17.
The premise being: the actress thinks of herself as a "bummer" when asked about the gift she'd like to receive this Christmas.
"You know, I super duper like getting surprised, and I feel like I'm a very hard person to surprise.
"So when someone does surprise me, parang sobrang hanga ako; because usually, whenever someone tried to surprise me with something, I usually guess before it happens."
It happens quite often to her, and she isn't exactly happy about it.
So, in order to save her loved ones from all the trouble this Christmas, the Kapuso star now prefers receiving gift certificates from her favorite store.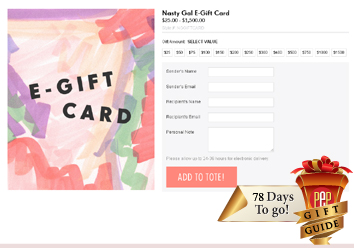 "I have a favorite online shopping site, nastygal.com, so I'd like GCs to that!" She says.
It was actually the same thing she asked for her birthday last October 3, and Rhian says, "What people were doing was, like, they'd go online to get me the GCs, and I receive them by e-mail.
"And whenever I get one, it's like, I spend it in less than 30 minutes. It's 'cause I already know what I want!"
GIVING GCs? While giving gift certificates may sound a bit too lame for serious Christmas shoppers, it is a practical alternative for people who have no time to go shopping at all.
Apart from GCs for their favorite shops or boutiques, it will be nice also to give your loved ones a GC for a spa or salon treatment.
Gift them with free facials, manicures, hair treatments or massages. Giving them GCs to these places of relaxation will certainly come handy when the hectic and stressful holiday season is over.