76 DAYS TO GO. Christmas is fast-approaching, and so is the start of a common office tradition: the Kris Kringle.
Each year, the stakes of the game get crazier and more challenging; but if there is one recurring category that Secret Santas are often encounter, that would be "something long."
Sounds easy, yes. But how about giving something that fits the description, and at the same time is both useful and practical?
Take it from Sam Milby and give your unsuspecting friend an oral care kit complete with toothbrush, toothpaste, and mouthwash.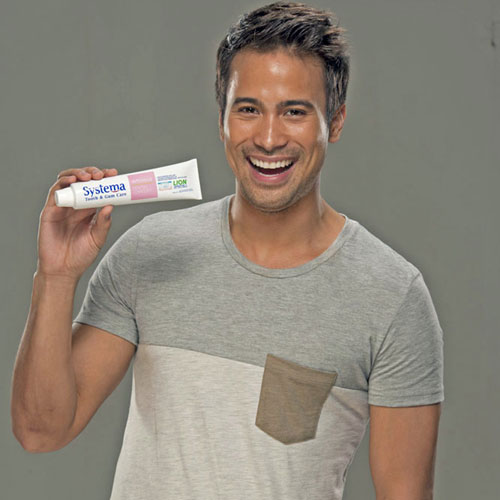 With this, you are not just giving something long, but something long-lasting, too!
The Systema Oral Care Kit caters to the needs of adults from ages 20 to 35. Surprisingly, that's when specific oral health issues begin to arise.
As we get older the gaps between our teeth and gums get deeper, and the only way to combat aches, pains, and complications—without having to go through awful dental procedures—is to have a good dental care regimen.
Sam's favorite toothpaste and mouthwash have ingredients that fight bacteria and help protect gums, plus the toothbrush boasts of super-tapered bristles that are made for deep cleaning between tight spaces, but remain gentle on the gums.