---
68 DAYS TO GO. As December 25 draws nearer, so does the beginning of 2014.
Each year, people list down their goals and resolutions; and one of the most common entries is to have a better organized system of managing time.
Even though most gadgets, like tablets and smartphones, are already equipped with calendar applications, there is still nothing quite like the old notebook diary.
Spongecola's lead vocalist Yael Yuzon, despite being attuned with technology, is one of those who still prefer jotting down his schedule in an organizer.
But he doesn't just go with whatever he finds at the bookstore.
The singer-songwriter is after something that not only makes living easier, but also inspires witticism and gives you tons of laughter while turning every page.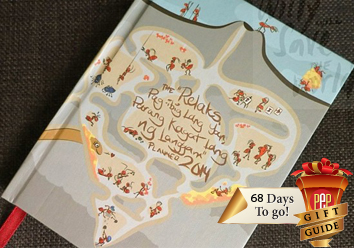 (Photo borrowed from Instagram @titawitty)
Witty Will Save The World planners have caught the attention of young folks for the past couple of years, primarily because of the fun and quirky treasures hidden inside it.
ADVERTISEMENT - CONTINUE READING BELOW
Ever heard of All Sawis' Day on November 3 or Araw ng Kamartiran on April 10? Yup, the planner self-declared these "holidays" for every brokenhearted and hopeless romantic out there.
The 2014 edition, called "Relaks, pag-ibig lang yan, parang kagat lang ng langgam," is filled with more laugh out loud antics, quotations, and it even contains "Hi! Crush po kita" stubs that owners can give to their crushes for fun.
(Photo borrowed from Instagram @titawitty)
Witty Will Save The World planners are available at major bookstores or via their Instagram account @titawitty.