IMAGE Noel Orsal
---
55 DAYS TO GO. Christmas is almost upon us, and with the celebration comes multiple invites to parties with plenty of feasting.
Most people will simply indulge, but if you want to stay sexy and healthy this holiday season, then go for this simple weight-loss regimen followed by Lauren Young.
Just recently, Lauren and her friends, including actress-blogger Saab Magalona, went on a three-day juice cleanse to prepare her body for the coming holiday buffets.
Regular detoxification by way of juice cleansing is a growing diet trend among celebrities.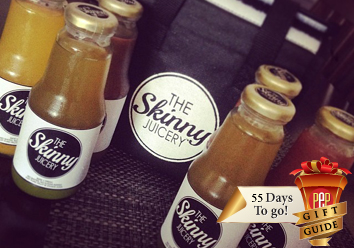 It is favored by most stars not just because it fits their fast-paced lifestyle, but also for its health benefits, including weight-loss, increased energy, and a glowing complexion.
JUICE CLEANSE KIT. This Christmas, share the gift of good health with The Skinny Juicery PH Cleanse Kits, which has made fans out of many celebrities.
Packed in a specially designed cooler bag, the combination of juices can be customized according to the intensity and needs of a person.
ADVERTISEMENT - CONTINUE READING BELOW
Beginners can be gifted with the Nurture Skinny Pack, which is the easiest cleanse program available.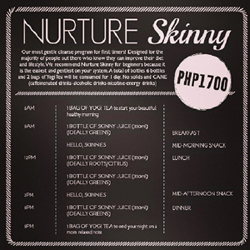 Regular cleansers can intensify with the Super Skinny Pack.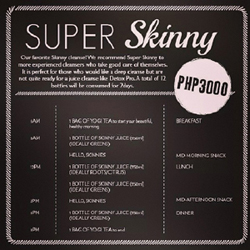 And later, they can go on the Detox Pro, which is ideal for those who want hard-core juice cleansing.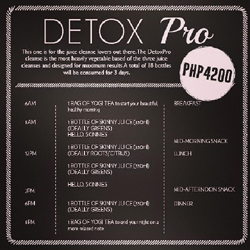 ADVERTISEMENT - CONTINUE READING BELOW
The basic juices, also known as the Skinnies Menu, are classified into three categories:
The Greens juices are made from green leafy vegetables such as kale, spinach, romaine lettuce, celery, and parsley mixed with flavors from lemon, ginger, cucumber, carrot, apple, and pineapple.
The Citrus group takes its main flavors from fruits like orange, apple, pineapple, and lemon mixed with carrot, mint, and cucmber.
Lastly, the Roots category is made with a mix of fruits and vegetables with red beets as the main ingredient.
Another product line called Hello Skinnies include specialty beverages meant to be taken as mid-morning or mid-afternoon snack.
There are six flavors in the line: Thrilla Vanilla, Chocolait Almond, Coco Water, Watermelon Wash, Pink Crushers, and Passionate Purple.
Lauren's favorite, as she mentioned on her Instagram account @lo_young, is the Chocolait Almond, which is made with distilled water, almond, dates, sea salt, and cacao.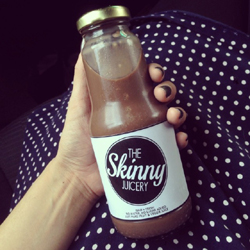 (Borrowed from Instagram @lo_young)
ADVERTISEMENT - CONTINUE READING BELOW
Enthusiasts of celebrity juice cleansing include Solenn Heussaff, Heart Evangelista, Divine Lee, Maxene Magalona, and Ellen Adarna, whose fit bodies and radiant skin are indeed the envy of many.
The Skinny Juicery PH Cleanse Kits are available via their FB page http://www.facebook.com/theskinnyjuiceryPH or their Instagram account @theskinnyjuiceryph.