IMAGE Sany Chua
---
50 DAYS TO GO. In the aftermath of super typhoon Yolanda, many celebrities have put up garage sales and charity events to raise funds for the benefit of the victims.
Among those celebrities was dermatologist to the stars Vicki Belo, who organized a bazaar last November 16, in front of the Belo Medical Group's Greenbelt Residences clinic in Makati.
Prior to that, Vicki and her ex-boyfriend Hayden Kho, who remains close to her, have already sent their initial contributions for relief operations.
Their chosen form of aid demonstrates how the doctor is as kind-hearted as she is smart—choosing to focus on the victims' immediate need for clean drinking water.
Vicki says, "Ang binili namin iyong mga [water] filter.
"Kasi, for me, I can live without food, I cannot live without water. For me, that's the pinaka-importante.
"So, there was this… May mga surfers kasi from the [United] States na contacted Hayden.
"Nagdadala sila ng portable filters na nagche-change ng salt water into fresh water, and they can do millions of gallons, or something.
"So, iyon ang una naming binili para at least may water."
Vicki was able to ship the water filters to affected communities in the Visayas through the help of businessman Robert Ongpin—who is also known as one of the richest Filipinos, according to Forbes Magazine.
"So many people have been so kind. Libre lang mga eroplano. They pay for the gas, the pilot... kami lang magpapadala noong goods.
"Actually, nagpadala na kami way ahead of time, ito [funds raised from the November 16 bazaar] naman iyong second batch."
ADVERTISEMENT - CONTINUE READING BELOW
MORE AID FOR VISAYAS. While aid has come flooding into Visayas, it will still take months—possibly years—before the afflicted areas return to normalcy.
That being said, relief and rehabilitation efforts must persist, and so must our resolve to extend help.
This Christmas, instead of buying the usual relief goods for donation, consider sponsoring a water filtering system for affected households in the Visayas.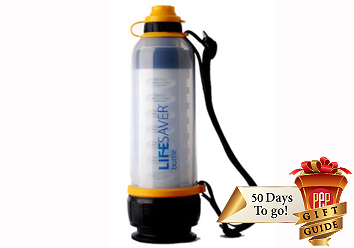 The Lifesaver Bottle is a portable water purification device invented by British engineer Michael Pritchard in the wake of the Asian Tsunami in 2004, and Hurricane Katrina in 2005.
A test conducted in 2007, by the London School of Hygiene & Tropical Medicine, proved that the Lifesaver Bottle can "completely filter out all bacteria and viruses," as well as cysts, parasites, and fungi from water.
Days after Yolanda's devastation, some victims have been desperate enough to resort to drinking unclean water from contaminated sources.
This item—which has become a favorite accessory of campers, hikers, and backpackers—will definitely come as a handy "Christmas gift" to ensure good health of the typhoon's survivors.
ADVERTISEMENT - CONTINUE READING BELOW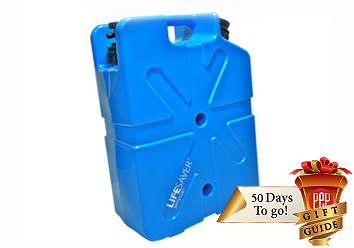 It also comes in a bigger version, called the Lifesaver Jerrycan, which can filter 10,000 to 20,000 liters of water.
Donating these filtering bottles to communities in the Visayas will ensure a supply of clean drinking water, while they begin the prodigious task of rebuilding their lives.
For more information on the brand's products, visit http://www.lifesaversystems.com/.
Lifesaver has also set up their own fundraiser called the Philippines Disaster Appeal.
Through their website, people can simply donate any amount of cash, which will be matched by the company pound for pound.