IMAGE The Sexy Chef Facbook page
---
Singer Rachel Alejandro and her sister Chef Barni Alejandro-Rennebeck changed the meaning of catering when they established The Sexy Chef in 2004.
The Sexy Chef is a diet-food catering service that specializes in delivering diet meals to health and figure-conscious Filipinos in Metro Manila.
This year, Rachel and Barni decided to share their healthy recipes by publishing The Sexy Chef Cookbook.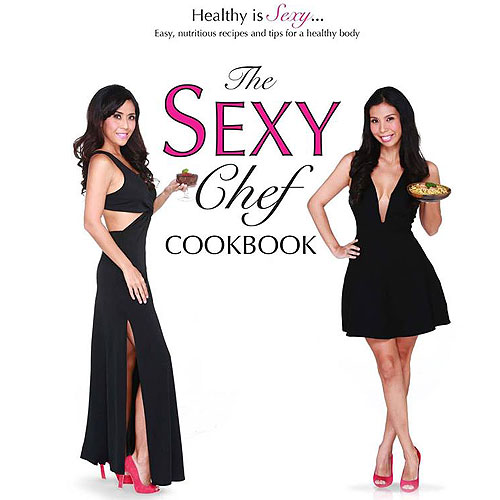 PEP.ph (Philippine Entertainment Portal) had a chat with them at the book launch last Wednesday, December 4, at National Bookstore, Glorietta 1.
What made them decide to come out with a cookbook almost a decade after starting The Sexy Chef?
Rachel answered, "Right, well we started thinking about it maybe about five years ago.
"And Barni was collecting, you know, recipes then. And a lot of people were really asking us… 'Oh, can we get this or that recipe?'
"At that time, we were just really doing South Beach diet. But over the years, we now offer diet programs and then, of course, healthy meals also.
"So more, even more people are requesting, especially people who are living outside of Metro Manila, because we only deliver within Metro Manila.
"So there's lots of people in Cebu, the States, you know, who are always like requesting for the recipes. So that's how it came to be.
"It kind of all just came together. It kind of all just clicked over the last few months. And then National Bookstore expressed interest in publishing it."
How did you choose which recipes to include in the cookbook?
Barni says, "Well, actually I've been collecting these recipes since, like, 2004.
"But of course, a lot of the…the science of weight-loss nutrition has changed. Di ba, before, bawal ang carbs? Before, things used to be kailangan low fat.
"But, of course, now everything is about fresh food, no preservative, slow food. So we have to incorporate that in this book.
ADVERTISEMENT - CONTINUE READING BELOW
"And, of course, what really inspired me actually is, uhm, I wanna be able to share to my clients and our readers that, you know, healthy cuisine doesn't have to be rocket science.
"You can actually prepare a tasty, delicious meal in, like, 5-10 minutes with even just a few, fresh ingredients. The most important is it's fresh. It's whole fruit talaga."
Do you think it might affect the sales of The Sexy Chef now that your recipes are accessible?
Rachel says, "We have, like, maybe… kasi we have 50 recipes in the book.
"There may be, like, 1 or 2 from South Beach, 1 or 2 from another diet program, 1 or 2 from another diet program. And of course our healthy meals, our dine-light meals.
"What we gave away was, like, two recipes of each category. We offer so many; we literally have hundreds of meals that we offer right now.
"So I don't think anyone can create, like, their own South Beach diet or their own pounds based on the recipes on their books.
"And then, of course, some original also… So, in the 50, I don't know how many are originals that were created just for the book."
GUILT-FREE HOLIDAY RECIPE. Since we only have a few weeks before Christmas, Rachel and Barni were asked to give tips on how to prepare a guilt-free feast.
Barni suggests, "Well, like in the book, I have this whole wheat-bread pudding, it's an apple cinnamon bread pudding.
"So you just…mga substitutions lang. Like, if white bread, substituted with whole wheat; white rice, brown rice.
"Try to just avoid everything fried, try to stick to grilled, broiled, baked.
"But, of course, if it's Christmas naman, it's nice to indulge. Just be good na lang right before so merong allowance for a little weight gain.
ADVERTISEMENT - CONTINUE READING BELOW
"And then, of course, after, why not—you can go on a diet after. But I think Noche Buena, you know, spend time with your family without having to think about gaining weight."
Rachel agrees, "And don't stress about it so much. Definitely, the Christmas season is the time of year to—yeah, it's fine—gain a little bit of weight.
"But yeah, I mean, you don't have to get a heart attack over it also. Like before, I used to have more…parang, 'I have to eat, I have to eat. It's so good, it's so good.'
"But you don't feel good anymore. Actually, after a certain amount, parang you've already satisfied your taste buds.
"I think what's more important is to pay attention to what you're eating and kind of, like, really focus on your meal.
"I mean, yeah, have a talk with your family and stuff like that, but also experience every bite. Because a lot of the time, people do mindless eating and they don't experience it.
"Especially during the Noche Buena, go for the meal, go for the dish that you really want.
"I know people always say, 'Load up on the other things and then eat a little lang of what you really want.' I don't subscribe to that.
"I think that—choose what you want, go for what you really, really want, it doesn't matter. Cut out the ones that you're not so excited about anyway."
BEST WAY TO A MAN'S HEART. Rachel was married in a beach wedding to Spanish reporter Carlos Santamaria in April 2011.
(View Rachel Alejandro's Boracay wedding here)
Barni is married to Bernd Rennebeck, and gave birth to daughter, Aryana, last year.
From their experience, is it true that "the best way to a man's heart is through his stomach?"
ADVERTISEMENT - CONTINUE READING BELOW
According to Barni, "Well, for me, yes! In my experience, like of course, it's always a plus factor for people I dated in the past and for my husband, that I'm able to cook, like, meals for him.
"But he also says that it's not naman a necessity. But, of course, he feels lucky na rin that he married a chef."
As for Rachel, "In my case, I didn't cook until we moved to New York for ten months.
"Because here, I'm so spoiled, I have food delivered from business.
"But when I was in New York, since I was on my own, and I didn't really have a job there, I was kind of, like, 'Why don't I experiment?'
"And you know, my husband Carlos is, like, surprised that you know, wow, 'She can also cook!'
"So, I mean, I like to experiment, and I'm not, you know, as methodical as Barni is 'cause I throw things together.
"Yeah, so I think so, definitely men are, you know, if you feed them well, they will certainly show appreciation."