IMAGE The Sexy Chef Facbook page
---
42 DAYS TO GO. In an increasingly health-conscious society that we live in, more people are becoming watchful of their food intake.
You probably have friends who observe a strict diet, and avoid certain food in order to stay in shape.
At times, though, you could feel that your friends may be depriving themselves too much, and how you wish they could enjoy their food as much as you do.
This Christmas, why not gift them with The SEXY Chef Cookbook by singer Rachel Alejandro and her sister Chef Barni Alejandro-Rennebeck?
The Alejandro sisters started their SEXY Chef business empire in 2004, as a diet food catering service that made deliveries within Metro Manila.
Their business has grown since into something bigger, and now the sisters are reaching more people with their first-ever cookbook.
The book is ideal for anyone who wants to serve healthy and delicious food—not just for moms and dads but also people who live on their own.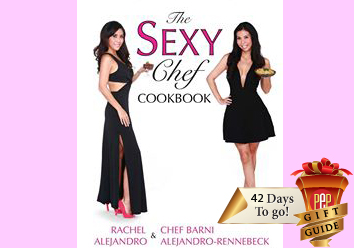 According to Barni, "Actually, since I'm a mom, I was really inspired to come up with child-friendly recipes.
"So, I have the oven-fried chicken fingers, the chocolate chia they can have, the mango chia.... There's the spaghetti and meatballs with vegetables as well.
"So, yeah, [this is for] moms, people who have no time to cook because the recipes are so easy.
"Working moms as well, people who are working, single people, or dads."
Rachel adds, "Or, you know, single men... Anybody, really, who wants to kind of, like, do experiments in the kitchen.
"Kasi, really, the important thing is to be prepared, you know.
"Like we were saying, it is possible to eat your favorite foods, to eat food that you love without getting fat.
"The other thing is you have to know how to make it and you have to be prepared, 'cause if you fill your refrigerator, let's say your kitchen cupboard, with unhealthy ingredients, of course you'll end up eating them and you'll end up [eating unhealthy food].
ADVERTISEMENT - CONTINUE READING BELOW
"But if you have healthy ingredients, and you know how to make it, you know, the minute you get hungry, you know what you can kind of whip up, you have less chances of, like, just getting whatever meal, ordering a meal na you know you're gonna regret later on."
PERSONAL FAVORITE. Among the 50 recipes featured in the book, Rachel and Barni share with PEP.ph (Philippine Entertainment Portal) their favorites.
For Barni: "I love the one that I demonstrated, the chocolate chia pudding, because I think everyone even said that it tastes so yummy.
"It's decadent without the fat and it's not high in sugar."
Barni demonstrated how to make the chocolate chia pudding at the book's launch last December 4 at the National Book Store branch in Glorietta 1, Makati.
She continues, "That's definitely my favorite 'cause it looks so elegant—parang it looks expensive to make, but it's actually affordable, and it's easy."
Rachel declares, "Ako naman, I'm a soup person. So I love all the soups in the book. I love the Southwestern tortilla soup.
"Cause I love that, whenever I go to a Mexican restaurant, I always order…people always look at me like…you know they order the tacos, the burritos.
"I always order the Mexican soup, you know the one with the chips on top and the cheese. But you're always thinking, 'Oh my god, how many calories is this?'"
But with their recipe for Southwestern tortilla soup, one can enjoy the meal without the guilt.
As Barni says, "That's what really inspires us. Like, we eat, we travel, and then we're like, how do we make this healthy?
"So that's when it's like, okay, I'll start to come up with it so that we can have a better, wholesome version of it."
ADVERTISEMENT - CONTINUE READING BELOW
The SEXY Chef Cookbook is available at National Bookstore and Fullybooked branches nationwide at P345.