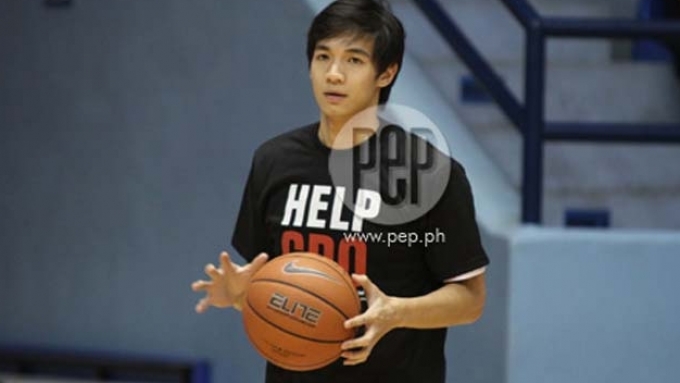 IMAGE Noel Orsal
---
Apart from being a basketball player and TV host, Chris Tiu is also an entrepreneur with a degree in management engineering.
His first venture in 2010 was as franchisee of Happy Lemon, a milk tea brand in Hong Kong.
Today, the business has grown into a chain with over 25 branches in the Philippines, and still counting.
Chris Tiu's latest venture in the food business is Tampopo, a ramen and tonkatsu specialty restaurant in Singapore, which he and his business partners opened on Tuesday, December 10, at The New Promenade in Greenhills.
The restaurant was founded in Singapore by Japanese Chef Takaaki Takagi. According to Chris, Chef Takagi is the CEO of Pokka Group, which operates Tonkichi, a renowned tonkatsu chain in Singapore.
The iBilib host says he chose to open a ramen and tonkatsu shop because he's "a big fan of Japanese food... one of my favorite cuisines after Chinese food."
But on second thought, "Or actually, it's not one over the other. I just love Asian food, whether Chinese or Japanese."
Moreover, "I've always been a soup person and noodles. I like noodle soup talaga.
"And whenever I travel abroad, in Singapore, in Japan, in Hong Kong, Vancouver, I eat in the specialty shops, the tonkatsu, the ramen shops, it makes me crave for it all the more."
Chris relates that Tampopo is the first franchise of the restaurant outside of Singapore.
"Ano na 'to, this was almost two years in the making, before all the tonkatsu shops and ramen shops started.
"Before all the tonkatsu specialty shops here in the Philippines started sprouting one after the other, we were already talking to our principal from Singapore.
"But because they never franchise out... this is actually their franchise venture which we encouraged them to do because we love their concept and their products, they finally agreed to exploring markets overseas. And this is their first one outside Singapore."
ADVERTISEMENT - CONTINUE READING BELOW
Chris and his friends originally wanted to specialize in one particular dish, but figured that ramen and tonkatsu would attract more customers.
"So we're the first concept in the Philippines that specializes in both ramen and tonkatsu," he points out.
The partners did not have to deal with a complicated kitchen as the head branch came up with a design that fit their requirements for an efficient work flow.
The 28-year-old PBA player is confident that Tampopo will succeed as a reliable food destination for the long-term despite the stiff competition in the food industry.
As he explains, "People might say we're a little bit late in the game kasi it's been around for a while, yung tonkatsu and ramen.
"But I think this is something that's long-term and more sustainable compared to other trendier food concepts.
"I've been a big fan of this since I was a kid, e, yung noodle soup, you can't go wrong.
"We're Asians, Filipinos love soup, e, we like noodles as well. Tonkatsu is fried and it goes with rice, it's very tasty, so it's nothing that's unusual to the Filipino palette.
"I think that it's something sustainable, and I think our location is very strategic also and very convenient, so we don't really plan to make it a commercialized brand.
"It's more of your community, neighborhood tonaktsu-ramen shop where you get your regular fix of ramen, tonkatsu.
"Right now, we have two very convenient and very attractive locations."
The second one will be in Bonifacio Global City, and is currently under construction.
BUSINESS WITH FRIENDS. Chris's partners in this venture are his friends, Kelvin Gaisano and George Huang.
Kelvin is also his partner in Happy Lemon, and in an upcoming specialty shop.
ADVERTISEMENT - CONTINUE READING BELOW
Conventional wisdom dictates not to do business with your friends, but Chris says he and his friends, apart from sharing the same work values, have set up a system to avoid getting in each other's hair.
"Well, we treat it very professionally naman. We have systems in place, and policies, that's treated very professionally.
"Even if you're owners, there are policies in place para hind mag-abuse, no. Like we always have to pay for our meals, maybe we're given a little bit of discount.
"In terms of decision-making, we do it professionally, there's a voting system, of course, based on your shares.
"The board sets the direction and then we trust that our managing partners, our general manager will make the day-to-day decision.
"In that sense, we treat it professionally, and we understand each other's values also.
"Hopefully, our friendship will not be affected because of the business.
"Anyway, I think, at the end of the day if we're grounded and you have the same values, you communicate well, you're transparent with each other, and greed doesn't take over or rule one person, then you'll be fine.
"Because yung root naman ng pag-aaway usually is greed, e, and misunderstanding, e."
Because of his hectic schedule, Chris says his partners are in-charge of the restaurant's day-to-day operations.
"We're lucky we have here si George, who's our managing partner. He's very hands-on, very organized and detail-oriented, and a great leader at that, also.
"He takes care of the day-to-day decisions that save us a lot of trouble. He won't have to bug us anymore, maybe we just sign the check, he just calls us if we need to sign anything.
"If there are any major strategic decisions that have to be made, then he consults us. Otherwise, we give him the free hand to make the decisions.
ADVERTISEMENT - CONTINUE READING BELOW
"My involvement is more on the… securing sites, business development, marketing, and setting the direction of the company, shall we say."
FOODIE CULTURE. As the Filipinos have become more adaptive to the "destination restaurant mentality," Chris believes that the food business will always have a growing market.
He says, "I think the Filipino market, in particular, people are becoming very discriminating with their palettes.
"Hindi mo na maloloko yung mga consumers because they're very well traveled. They get to travel all over the world and try different restaurants. They're very exposed.
"And with the social media, people are more aware of different concepts, and it's becoming more of a status symbol, in a way."
Indeed, social media has empowered its users to celebrate the blessings that come to them, and eating good food is on top of that list.
"It's aspirational also, with the advent of Instagram, you know, people have the habit of taking photos and posting their food on Instagram even before saying a prayer before meals.
"Nauna pa yung picture bago magdasal, e. That goes to show how much they value food, and how much they would like to share their food experience.
"So I think it's becoming a culture now where people are always looking for something new and something that will fit their palette, their preference.
"So, I think the market is growing. People are willing to spend for food, as long as it's something that they'll enjoy, and they think it's worth spending for."