IMAGE Borrowed from Instagram @starmagicphils
---
32 DAYS TO GO. When someone we know is pregnant, we tend to think more about the gifts that we can give to the baby, not the mom.
But this Christmas, while the little bundle of joy is not out yet, let's not forget about the woman who is risking her life for the child.
Ever heard about antenatal or prenatal depression?
Just like post-partum depression—which most new moms experience after delivering a baby—this condition that occurs during pregnancy is very much true.
So, for expectant moms like Melai Cantiveros, who just recently married her boyfriend Jason Francisco, something that can make her feel beautiful and good about herself is a gift worth giving.
You might want to consider these chic dresses from fashion designer Edwin Tan's POSH Maternity line.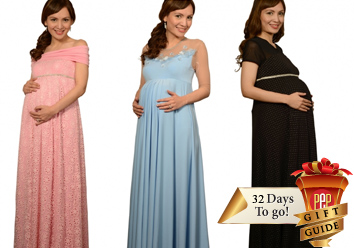 Each of these dresses from Edwin Tan's POSH Maternity line costs P4,500.
Each design is limited in quantity, so you can be sure that your soon-to-be-mommy friend will sashay through the elegant season in unique style.
Along with these fabulous dresses, you can also throw in some bling, like these Sunray Church Window earrings from fashion jewelry brand Alchemista.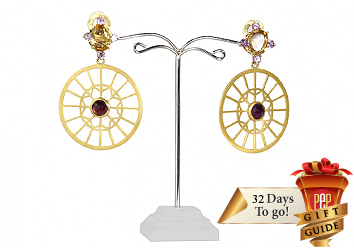 Sunray Church Windonw earrtings at P14,000.
This particular piece has detachable dangles so you can actually wear it in two ways.
Both POSH Maternity by Edwin Tan and Alchemista are available on shopping website AVA.ph.