IMAGE Mark Atienza
---
22 DAYS TO GO. These days, celebrating the holidays is never complete without taking dozens of pictures (and selfies!) with a smartphone.
Sharing definitely means caring; and what better way to share your photos—aside from social media—than to give your friends and loved ones printed copies of your holiday pics?
Photo printing is now made easy with the LG Pocket Photo Smart Mobile Printer—a favorite of stylist and social media maven Alyanna Martinez.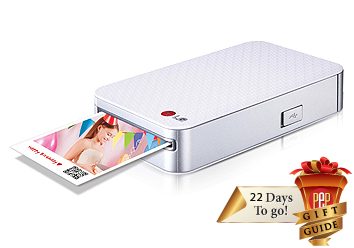 Alyanna and her friends got to test this nifty gadget during one of her fitness parties, where she regularly gathers her fellow fitness freaks.
This pocket printer can churn wirelessly from a smartphone—no more passing through a computer before printing!
It has an inkless printing system and uses special paper available in packs of 10.
It also comes a portable battery pack, which allows you to take and print pictures instantly during a party.
Right away, you can give copies of your photos that your pals can display on their desks or keep in their wallets.
Your photographer friends—whether they are pros or enthusiasts—will thank you for this gift.
They may even choose to thank you by printing photos of you and making a collage out of it.
Visit www.lg.com/ph for more information about the product.