IMAGE GA Granali
---
18 DAYS TO GO. Instead of watching just another holiday season pass by, watch hunger stop by gifting your loved ones with a Michael Kors 100 Series watch.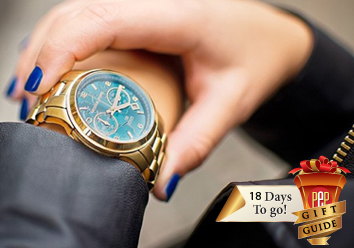 "Hunger is a solvable problem, but in order to solve it, we need everyone in the world to be aware of it," the international designer was quoted as saying in a promotional literature for the watches.
With this goal in mind, he launched the Watch Hunger Stop Initiative on World Food Day last October --.
Apart from asking shoppers at Michael Kors stores to donate to the United Nations World Food Programme, he released the 100 Series watch where each sale will help feed 100 children.
These well-designed unisex watches are available in mid-sized or oversized styles and comes in two designs: a gold-tone stainless steel body with a turquoise dial, and a silver-tone stainless steel body with a navy blue dial.
The back of the watches are marked with the advocacy logo for Watch Hunger Stop and Michael Kors' signature.
To further promote awareness of the initiative, a series of #WatchHungerStop shirts were given away outside select Michael Kors stores around the world.
Recipients were encouraged to post pictures of them wearing the shirt in their social media accounts, which was also seen on the photo stream at the Times Square billboards in New York City.
Manila lifestyle host and blogger Daphne Oseña-Paez striked a pose with her own T-shirt in a recent Instagram post.
The 100 Series watch is available at Stores Specialists Inc. (SSI) establishments, the exclusive distributor of Michael Kors in the country.
They are located at The Power Plant Mall, Greenbelt 5, Rustan's Makati, Shangri-La Plaza Mall and Newport.