IMAGE Abby Mendoza
---
16 DAYS TO GO. Remember Benjamin Alves's gift suggestion for the survivors of super typhoon Yolanda?
The Kapuso actor wanted to give them a copy of The Holy Bible or other inspirational reads that could uplift the spirits.
But here is something better.
Foreign publishing company Bardin & Marseec specializes in printing various editions of The Holy Bible on a special material that can weather any condition.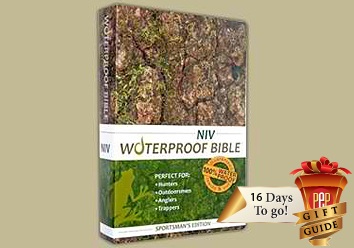 In the company's official website, founders Bobby and Anna Bardin, and their friend Michael Marsee, said that they conceptualized the product out of their sheer desire to inspire others no matter what condition they are in.
"As believers in Jesus Christ and a love to be in God's creation and exposed to the elements, we have often desired to have a Bible by our side for reading here and there.
"Our exploring has led us to mountain tops, river banks, sandy beaches, misty valleys, dark caves, and hot springs, and has caused us to become soaked to the core while backpacking or paddling.
"I hate to admit that our Bible has not made it with us on many of these occasions for the sake of protecting it and because we don't trust a plastic bag not to puncture.
"Now we can put an end to all the worrying that we have done in the past about our Bibles and take God's Word wherever our adventures lead."
Not only is the waterproof bible a perfect gift for typhoon victims, but also for anyone who is devoted to the scriptures.
One celebrity who would appreciate this gift is Mr. Pure Energy himself, Gary Valenciano.
As a devout Christian and frequent traveler, primarily due to the nature of his job as an entertainer, a waterproof Bible would certainly come in handy for Gary.
Take your Bible anywhere from the beach to the mountains, and never worry about it getting destroyed by the unpredictable weather conditions.
ADVERTISEMENT - CONTINUE READING BELOW
To order a copy of the waterproof Bible and other items from their line of waterproof reads and accessories, visit www.bardinmarsee.com.