10 DAYS TO GO. They say that to attract good fortune for the New Year, one has to wear new clothes.
After buying all the stuff for your friends and family, now is the time to go shopping for yourself.
Let's start off with footwear.
Iya Villania has found the perfect pair for people who are planning to go party-hopping on New Year's Eve.
The Vans Marvel lace-up sneakers are great for anyone who loves pop culture.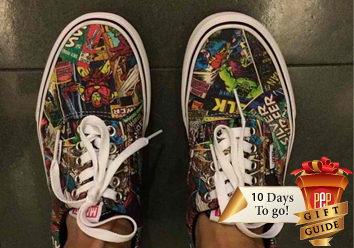 Borrowed from Instagram @iyavillania
Thanks to the very success of the Marvel movie franchise, the colorful, comic-book-inspired print on this pair has once again become relevant and trendy.
Grab a pair for yourself and wear it on New Year's Day along with a cropped top and shorts combo, a tucked in T-shirt and skater skirt combo, or a mini dress.
Get your Vans at major department stores nationwide. FOr more information, go to facebook.com/VansPhilippines.