8 DAYS TO GO. A new year always brings an opportunity for a person to renew his or her sense of self—to rethink one's past mistakes and to strive to become better.
If you or anyone you know is dead set on becoming a healthier person this 2014, then why not give Carlene Aguilar's Juice Ko Car a try.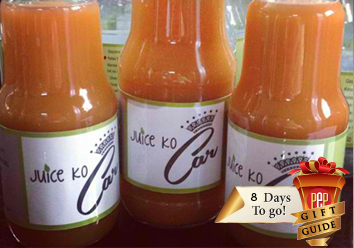 The former beauty queen turned actress established her online business late last year, and now her roster of happy and satisfied clients continues to grow.
Juice Ko Car offers an array of mixed vegetable and fruit juices that promote detoxification.
After consuming all the sumptuous food during the holidays, this is the perfect time to rid the body of all those harmful toxins and fat.
To order, e-mail juicekocar@yahoo.com or visit the Instagram account @juicekocar for more information.