5 DAYS TO GO. There's no such thing as too early when it comes to taking care of our skin.
Prompt your loved ones to start now with a gift of skin care goodies from Cetaphil.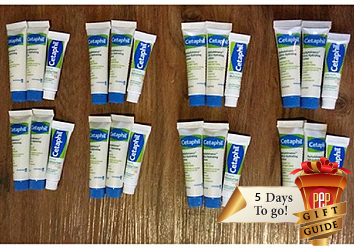 Borrowed from Instagram@whianwamos
As a brand, Cetaphil uses advanced skin care technology and promises to help restore, protect, and maintain your skin's natural balance.
Among the most popular products of the brand are the Gentle Skin Cleanser, Daily Facial Moisturizer, Daily Advance Ultra Hydrating Lotion, and the Antibacterial Gentle Cleansing Bar.
Highly recommended by dermatologists in the country and worldwide, it is reputedly safe to use even for infants and children.
Many celebrities have praised the brand and incorporated its products in their personal skin care routines.
One of them is Kapuso actress Rhian Ramos, who posted a photo on her Instagram account, @whianwamos, Cetaphil products that she was packing for her trip to Thailand with her sister.
The Cetaphil product range is available in Watsons and Mercury Drug stores, as well as other retailers.
While these can be bought over the counter, it is highly recommended to consult a dermatologist before using the products.