If you don't know that TFTFZ means Tales From The Friend Zone, then this series of uniquely entertaining online webisodes remains for you to discover.
Produced by actor Ramon Bautista and fellow filmmaker RA Rivera, the webisodes explore the many permutations of love in real life, including its awkward, if not downright painful moments, but with infectious humor.
Recently, TFTFZ has taken a more personal twist for the actor as it tells his own saga of meeting someone whom he thinks is the girl of his dreams, falling in love, plunging into courtship, and finally popping the big question armed with the proverbial engagement ring.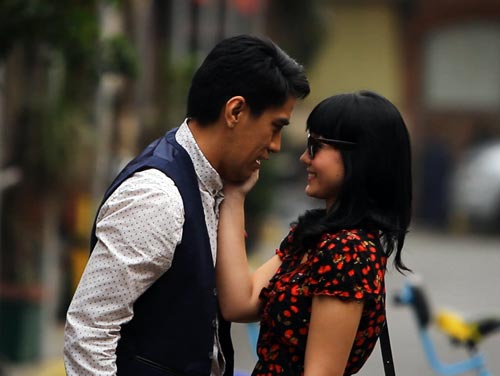 Thus the prequel of TFTFZ is born, titled TFTFZero.
According to Ramon, the characters and story are based on a combination of players from his own and friends' lovelives, especially the girls "who have friend-zoned us bad."
Ramon says, "There are actually a lot of females whom we based the girls on, but we combined all of them into two characters.
"These two girls are sort of our Frankenstein monsters.
"The lead guy, whom I play, represents people who used to be hopeless romantics, burned by failed love.
"I guess a lot of people will be able to identify with Spanky, my character, a guy who is smart but can be a bit naive and dumb when emotions take over."
Why is TFTFZero particularly funny?
Ramon gives this answer: "Well, there is this immediate tension when you see characters like these. You just know something is bound to go wrong.
"But we have been conditioned to believe that with watching love stories, we would expect a happier ending.
"Of course, that doesn't happen, not in a TFTFZ story anyway. Not all of it is funny, actually it's tragic because that's reality.
"But what makes us laugh is that we see our awkward selves in these tensions that occur once in a while, when we go for people who are not quite in the same character mold as we are."
The multi-talented performer recalls that he and RA started making TFTFZ webisodes around summertime last year.
"We wanted to make videos telling how bad love can hurt yet how funny we can be, viewed from outside.
"My Formspring [online account] was getting a lot of questions each day and most of them were from people asking for advice about their lovelives, so we had a tremendous source of material.
"We just had to analyze each based on our beliefs, and make videos to visualize the stories. The actors were our friends," he says.
After watching TFTFZero, one can be forgiven for asking if Ramon and RA still believe in love.
"Naniniwala naman kami sa pag-ibig. Nililinaw lang namin na mas malaki ang chances mo na masaktan," Ramon replies.
And asked about his dream girl, "Kapag nahalikan mo ang isang girlaloo na nahalikan na rin ng lahat ng kabarkada mo, e, parang nahalikan mo na rin lahat ng kabarkada mo?"
"Hindi naman, basta mag-toothbrush si girlaloo," Ramon concludes.
And to move on, he sells his beloved tandem bike with its poignant memories of the girl on the popular online buy and sell site, www.AyosDito.ph.
So, if you're in the mood to empathize with people in love, even to see yourself in them, look up TFTFZero online to witness the joys—and the sorrows—of loving, and how funny love can be.