Eyebrows raised when a relatively young and new Jessy Mendiola was chosen to play the title role in ABS-CBN's Maria Mercedes.
The show, of course, is a revival of the well-loved Mexican telenovela that became popular to Filipino viewers in the 1990s, and was led by the sultry Mexican singer-actress Thalia.
Coming from the afternoon series Precious Hearts Romance: Paraiso star, Jessy admittedly felt the pressure in playing a character that Filipinos know too well.
But, nonetheless, the young actress stepped up.
More than looking the part, the 21-year-old gamely filled in those huge shoes by changing her image from a delicate doll-face to somebody frisky, teasing, and downright sexy—just the way the character needs her to be.
Besides the painstaking physical workouts she put herself through, she also took Flamenco classes to make sure she got Maria Mercedes's trademark flirtatious dancing right.
Her newfound aura instantly landed her on the cover of magazines Esquire and Cosmopolitan, as well as the Men's Health feature "Girls of Summer."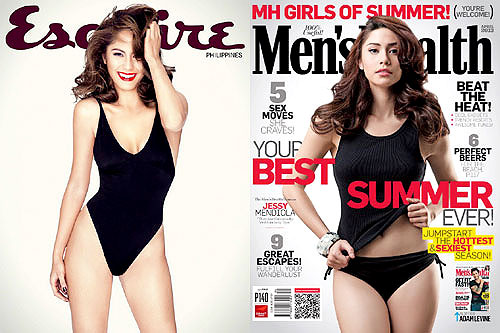 Male fans were captivated by Jessy, and her campaign advertisements, particularly that of McDonald's McSpicy Chicken Burger, became ubiquitous.
The TV commercials and print ads significantly acquainted Jessy's new look—big hair, red lipstick, red dress—to the public.
When the show finally aired on October 2013, she added spice to the primetime slot.
The Maria Mercedes remake initially acquired good ratings.
A couple of months later, Jessy is basking in the limelight that the role has put her in. Her efforts have thankfully paid off.
Meanwhile, she has learned to tune out what haters say about her.
In a chat with PEP.ph (Philippine Entertainment Portal) last December 22, during a mall show at a packed SM Las Piñas, the part-British-Lebanese beauty recalled the negative comment that hurt her most.
"Sana iba na lang daw [ang gumanap na Maria Mercedes]. Iyon naman iyong pinakamasakit… na sana iba na lang daw."
Smiling off the recollection, the young actress said that, on the one hand, the support of viewers and her fans have lifted her up.
She quipped, "Now a lot of people are tweeting, 'Oh, I've been proven wrong,' na parang 'Bagay nga pala sa kanya ang Maria Mercedes' or 'She is the Maria Mercedes of the Philippines!'
"Pag naririnig ko iyon, parang 'Yes!' Na-prove ko rin naman sa kanila na I deserve iyong break na ibinigay sa akin ng management ng ABS-CBN.
"So, I'm really happy."
It gladdens her whenever people sing the theme song of the show with her whenever she performs on stage.
All the more when random strangers call her "Maria" when she takes strolls at the mall or crosses the street.
NEWFOUND CONFIDENCE. The Maria Mercedes role definitely has made Jessy Mendiola an indelible name and face in the entertainment circuit today.
Personally, the young actress feels that the character "changed her a lot."
She confesses, "Dati mahiyain ako. Dati I couldn't even dance in front of everyone or I couldn't even sing!
"Ngayon, automatic na. Kapag naririnig ko na iyong music ng Maria Mercedes, microphone na lang ang kulang!
"Gagawin ko na lang sa harap niyo. Kasi kahit nakapikit ako, memorize ko na iyong kanta!"
There was something empowering about portraying Maria Mercedes, a street ragamuffin turned successful business woman, that made Jessy let go of her inhibitions.
She remarked, "Iyong confidence andoon, e… I just put my red lipstick on [and then] I'm okay."
It would, in fact, surprise anyone that the young actress, as ravishing as she is, still has insecurities like any other woman.
"I think everyone does," Jessy pointed out.
"Lahat naman ng babae may insecurities!"
She continued, enumerating hers, "Ako, I'm too white! I have to have sun! Or I have big arms! Or I have big thighs!
"Pero may insecurities din ako, like [when] I read negative comments as 'O, she has to improve more or she has to practice more sa dancing or sa acting!'"
Sticks and stones could break her bones, so they say, but Jessy has learned to turn all the negativity into constructive criticism.
An optimist, she imparted, "You could always improve more because there's always room for improvement."
Having that kind of mindset definitely transformed Jessy into a more secure woman. She thanks Maria Mercedes for that.
"For me, nabawasan siya [insecurities]. I mean, you learn how to appreciate your worth more because people enjoy what you do.
"People smile differently when they see you. So, para sa akin, iba iyong confidence kapag alam mo na gusto nila iyong ginagawa mo.
"Ikaw din, gusto mo na iyong ginagawa mo dahil napapasaya mo sila."