2 DAYS TO GO. Everyone seems to have their fitness goals set for 2014, but where and how exactly do you start to get your dream body?
Model-actor turned fitness expert Edward Mendez has the perfect answer to anyone longing to find the right diet or workout system that will work for them.
While everyone goes on an "eat less, exercise more" mantra, Edward does things completely in reverse.
"The program is called Eat More, Exercise Less.
"It sounds like a radical idea, I know, but when you try it, you will really be amazed," he tells PEP.ph (Philippine Entertainment Portal) in a recent interview.
Edward is very happy to share the science behind this program in his first book Your Dream Body Come True.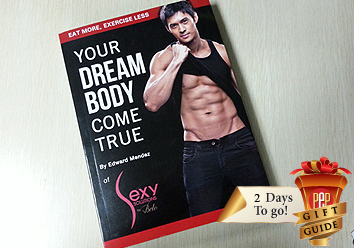 In it, he tackles his journey from being a "funny-looking fatty" to downright sexy hunk.
"Eat More, Exercise Less seems like a joke, but once you learn the principles behind Edward's advocacy, you will understand why," says broadcast journalist and Bandila anchor Ces Drilon in her testimonial found in the book's back cover.
Ces is one of the loyal followers of Edward's regimen, and a living testament to just how effective it is.
She even adds: "I am so fortunate to have him as a coach beacuse his passion is infectious.
"And there is nothing like understanding the science behind what you do during the workout and what you eat, which Edward takes the pains to explain.
"With him as my coach, I am positive I will attain my dream body."
The book is not your ordinary health and fitness literature, but rather a helpful companion for your day-to-day activities.
It's filled with inspiring photos of Edward and his "disciples," as well as illustrations of food and exercise moves to guide you through your diet and workout.
Your Dream Body Come True by Edward Mendez is available at leading book stores nationwide.