Nicole Kidman, pictured in a modern jungle where neon and foliage are juxtaposed to create an energetic and vibrant atmosphere, stars the Nature Unleashed campaign of Jimmy Choo for its Spring Summer 2014.
In a series of three shots, Kidman appears to defy gravity in poses that evoke movement and commands attention.
She is confident, sensual, and luminous, with her accessories worn as if they are a second skin.
Wearing the Tamber shoe with the python Anna bag, she is captured by SølveSundsbø's lens like an exotic butterfly in flight.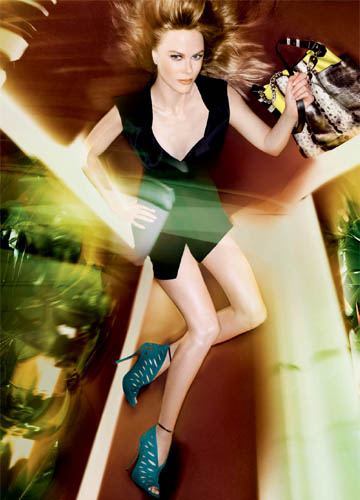 Appearing to float above the ground, she is captivating wearing the flame Damsen sandals.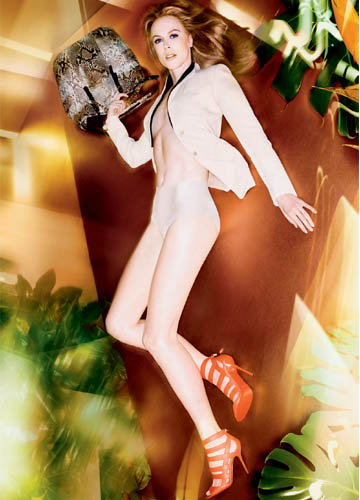 Reclining seductively, she clutches the Charlize in neon lime matt puthon with the Keane rope sandals.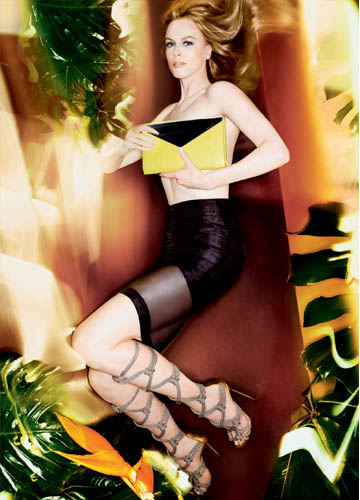 Breaking in March issues globally, the campaign is accompanied by an exclusive behind the scenes film which may be viewed at www.jimmychoo.com.
Talking about the pictorial, Nicole said,"I really enjoyed working with Sølve, he is very creative but he is decisive and methodical in his direction. It was fun to shoot new and surprising perspectives, it felt a little bit daring, dangerous, I loved the minimal styling and how the shoes and bags became like a sensual second skin to me."
Meanwhile, Creative Director Sandra Choi said, "I love Nicole Kidman's openness to embracing a new character and each season she transforms into a new personality that embodies the spirit of the collection. Her poses are striking yet unexpected and her natural beauty is mesmerizing. She exudes feminine confidence and there's a palpable sense of energy to the pictures."
YouTube link to video: http://youtu.be/YBibY4-INvM
Model: Nicole Kidman
Photographer: SølveSundsbø
Stylist: LudivinePoiblanc
Hair: Shay Ashual
Make-up: Val Garland
In the Philippines, Jimmy Choo is exclusively distributed by Stores Specialists, Inc. (SSI), and is located at Greenbelt 4 and Rustan's Makati.