1 DAY TO GO. Chinese New Year is coming, which means another opportunity to push yourself to become better this 2014.
Although the Chinese are quite traditional with how they celebrate the Lunar New Year, we Filipinos like to take on a more optimistic and fun approach to the occasion.
As such, we like to prepare a feast, spend the day with our loved ones, and, of course, dress up well to invite good fortune.
To help you with your Chinese New Year style is celebrity stylist, and fashion editor-at-large for magazines Preview and Esquire, Liz Uy.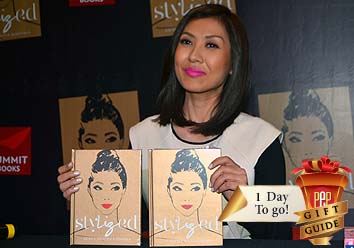 Her new book styLIZed has been launched recently, and it is the perfect handy guide when planning your wardrobe.
According to the author, there are ten things that every woman should own. Among them are a white T-shirt, a blazer, and a pair of jeans.
Liz says her book won't impose her personal style onto her readers, "It's more of inspiring them lang, to help them find their own style.
"That's why I picked these ten pieces, because these are things na probably every girl has in her closet already.
"So, my role lang here is to teach them how to use those pieces in so many ways."
The book styLIZed is now available at leading bookstores nationwide for only P395.
For more information, visit www.summitmedia.com.ph/books.