Come May, Jericho Rosales and Kim Jones will tie the knot in Boracay.
Both avid surfers, the bride-to-be told the press earlier, January 22, that a beach wedding was inevitable, "…we wouldn't have imagined it any other way."
Jericho added, "It had to be around water…"
Given the Kapamilya actor's hectic schedule, Kim is the one on top of the preparations.
Echo (his nickname) said, "I'm kinda diyahe…I'm doing a TV series in Malaysia for Chef, and then here naman, it's The Legal Wife," plus, he's starring in the movie version of Bob Ong's ABNKKBSNPLAko?
So his only participation of late: to say, "Okay, babe…Alright, babe."
The host/model/blogger said she doesn't mind. She's presently working on the guest list, which will include "just our closest friends, you know, friends and family who's been there from the very beginning of our career, and in our relationship also."
The Kapamilya star resumed, "We really tried to make it really small. But with all of my friends and her friends, then sa industry…"
Kim threw in, "That's a lot!"
Back to the preparations, she didn't look jittery or stressed out at all, "We're almost there. We're taking it one day at a time. We're getting there."
THE DRESS. Kim picked Vania Romoff, a Cebuana fashion designer, to do her wedding dress.
For his part, Echo quipped, "Wala pa akong suit so nananawagan po ako kung sinong gustong mag-sponsor ng suit at saka ng groomsmen ko."
THE HONEYMOON. At the mention of it, the actor/singer turned giddy.
But they haven't really planned anything yet.
"Wala pa, still busy," he said before adding, "We wanna go to Europe. So we'll see. Saan sa Europe?"
Laughing, he answered his own question, "Sa city mismo."
Turning a bit serious, he continued, "…pero kaya naman [isingit sa schedule]. After the wedding, we'll have time."
Kim affirmed, "We'll make time."
"BOLD AND DIFFERENT" SURPRISE FOR KIM. Most likely, the couple will not be celebrating Valentine's Day on February 14, and it won't be an issue for Echo's "love of my life."
At the Manila Ocean Park, with some help from Toblerone, he did a pre-Valentine surprise, serenading Kim with "When You Say Nothing At All," and declaring his love with the help of aquanauts.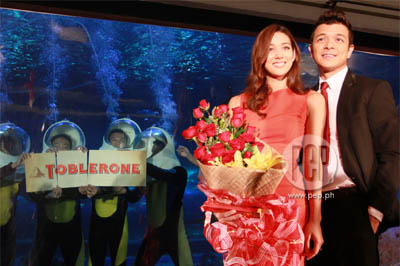 Giggling, the lady remarked, "I'm okay with that! That was so sweet. That was the sweetest thing ever. I was really surprised."
The gesture, Echo said, "is everything...I've never done anything like this before…in front of the press pa.
"It was really unforgettable. Actually, I'm kinikilig myself. I'm kinikilig for myself."
Between the two of them, who's sweeter?
Kim replied, "Well, I think, we're both sweet. It's a good balance."
On the contrary, Echo said, "She's amazing! You know every time we celebrate celebrations, say birthday, Valentine's Day or anniversary, she gives me the best surprises."
One instance was the "treasure hunt na gift-giving."
Echo related, "Gumawa siya ng tips kung paano ko mahahanap yung gifts ko.
"This Christmas, she gave me like ten different gifts. May parang sequence yung pag-open ng ano...
"She's amazing. I can't beat her pagdating sa aspect na yun."
Blushing, Kim said, "But I love surprises. I love to surprise him. I love the effort and planning everything."