IMAGE Noel Orsal
---
"No one mourns the wicked," a line in a song from the popular Broadway musical Wicked may say; but fans of this beloved theatrical masterpiece absolutely feel otherwise.
Truly, there are too many things to love about this stage re-telling of the fiction novel by Gregory Maguire—and one of them is the tandem of Australian actresses Jemma Rix and Suzie Mathers, who play Elphaba and Glinda respectively, in the global production's Philippine season, which currently runs at the Cultural Center of the Philippines (CCP) until March 9.
This is actually the third time that Jemma and Suzie are playing the iconic characters alongside each other—they were also the tandem that led the Singapore and Seoul seasons in 2012—but just like Elphaba and Glinda, the friendship that they share just keeps growing stronger.
In an interview with PEP.ph (Philippine Entertainment Portal), the two thespians revealed their sentiments about the characters they play, and their taxing, yet enjoyable, job as artists.
It was quite amazing to watch them gaze at one another as each gave their answers to every query. They also kept nodding and smiling as they listened to the other person—a sign that they both share the same emotion, dedication, and passion towards their roles.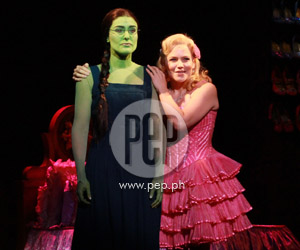 ADVERTISEMENT - CONTINUE READING BELOW
Asked what they think makes them the perfect fit for their characters, the bubbly Suzie answers: "I'm definitely blonde... and love pink! But I'm a little bit more down to earth than Glinda, I think. I think she's a bit more flighty than me."
On the other hand, Jemma thinks: "I'm definitely Elphaba, but maybe not as opinionated. I don't have that strength, but, yeah, I'm a passionate person. And I'm a kind person—or at least I'd like to think of myself as a kind person—so, yeah."
JEMMA'S BEAUTY TRICK. As the faces behind Elphaba and Glinda, Jemma and Suzie work very hard to maintain their looks and their health.
Especially for Jemma, who carries the burden of having to put on so much makeup for the show, caring for the skin is a very important part of her daily routine.
To remove all those green MAC makeup, she says, "I just use a sorbolene cream. It's just very, very gentle. No perfume. It's super, super light in cleansing. And because my skin gets sensitive having to wear makeup every day, so I have to use a very gentle removing agent."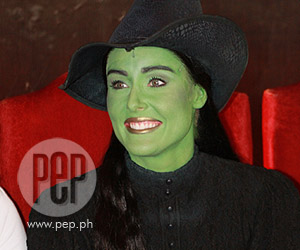 ADVERTISEMENT - CONTINUE READING BELOW
GRANDMAS. Off stage, Jemma describes herself and Suzie as "grandmas."
"During the trip, we just go to cafes and have lunch and that's our fun kind of thing, as opposed to going out and enjoying the night life of whatever country we're in. So, we're pretty much at home and in bed and asleep."
"We don't really have much of a social life when we're doing a show. Our fun time kinda comes when we have a break after the season. At closing night, we party," adds Suzie.
Sadly, they still haven't gotten around to see the beautiful spots around Manila. Suzie explains: "We eat well, we rest a lot, we don't talk much on our days off, and that's because we want to do a good show."
"Yeah, and the stamina you need to perform roles like this is huge, and you just can't go out and get crazy," adds Jemma.
"We just don't want to [go out]… we're too tired to!" they both say.
STEPPING IN AS ELPHABA AND GLINDA. Asked who their inspirations for portraying their were, both Jemma and Suzie gushed upon admitting that they look up to Idina Menzel and Kristin Chenoweth, the actresses who played the lovable characters in the original Broadway production.
Jemma says: "For me, when I first heard the soundtrack of Wicked with Idina Menzel and Kristin Chenoweth, I immediately fell in love with the musical right then and there.
"I loved the story and the music, the passion… And my voice is sort of not the traditional kind of theater-sounding voice, so when I heard Idina's voice, I thought: 'Ooh, that's sort of my sort of sound!'"
ADVERTISEMENT - CONTINUE READING BELOW
It was actually in 2006 when Jemma first had her taste of playing Elphaba.
"I did an audition in Universal Studios Japan—and I was doing another show there at that time—and they were actually bringing in a shorter version of Wicked in Japan, just to see how the Japanese people respond to Wicked.
"I've been a fan of Wicked for many, many years, so for me to be here right now—to be green—is just unbelievable. I feel very, very lucky, but Idina Menzel is absolutely top notch for me."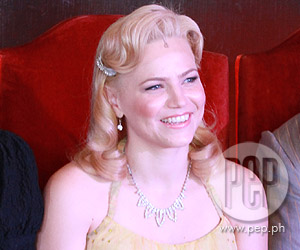 Suzie, meanwhile, quipped: "In the fear of sounding very cliché, Kristin Chenoweth. She was a massive inspiration to me.
"The same thing—I heard the recording of Wicked and thought, 'Oh, my gosh! She does what I can do!' but, to think that five, six years later I'd be sitting here playing this role is incredible.
ADVERTISEMENT - CONTINUE READING BELOW
"These two female roles are THE roles for girls in musical theater. They're incredible, strong female parts to play, and, you know, it's such a privilege for us to be part of the show, and we're very happy [about that]."
Albeit happy and excited, Jemma and Suzie also had their share of jitters and worries that their tandem wouldn't become as successful as the original.
Then again, for them, playing in Wicked has never been about outperforming everyone else. (Even though that seems to be the case now as—according to actor Jay Laga'aia, who plays the Wizard, during a press conference at the CCP on January 23—David Schwartz, the creator of the musical, has said that this current production is by far the best in Wicked's ten-year history.)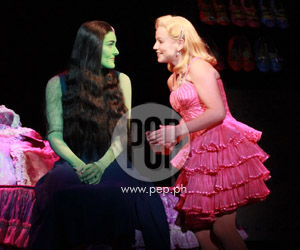 "I think it's very objective when you watch an Elphaba and Glinda. I think the show, in this instance, is the vehicle, the star vehicle, I suppose," says Suzie.
ADVERTISEMENT - CONTINUE READING BELOW
"It's such an amazing show that girls all over the world get to play these wonderful roles. And for audiences, whether you see me and Jenna or whether you see Idina and Kristin or whoever around the world, they still sing the magic of Wicked because it is... the show you get here in Manila is the same you get on Broadway or the West End, so nothing has been compromised.
"It really is magical for that, I think, more than the characters and the people that play the characters."
FAVORITE MOMENTS ON WICKED. On January 22, Wicked opened its first show in Manila to a full house of giddy fans.
"Crazy! Absolutely crazy," Suzie shook her head as she recalled the warmth of Pinoy fans.
"It was insane, and stage door was crazy, too!" said Jemma in agreement.
In their brief encounters with the audience after the show, the actresses always had the pleasure to know what the fans loved particularly enjoyed about the performance. But as the performers, what are their favorite songs and moments on Wicked?
Suzie says: "I think my favorite to sing and perform would definitely be 'Popular', because I get to work with Jem, we get to work together and play together, which is fantastic.
"But I love 'Thank Goodness' as well. I think the character Glinda goes on such a huge journey in that song, so I love that one as well."
ADVERTISEMENT - CONTINUE READING BELOW
As for Jemma: "I think, for me... well, it changes every day because we sing it all the time, so it depends on what sort of mood that we're in.
"But at the moment, 'Defying Gravity' is sitting really well in my voice, so I'm feeling good singing that. Plus, I get to fly in that, you know, it's crazy—music, smoke, lights… it's pretty."
"Yeah, that's actually my favorite moment in the show, too, but I knew she was going to say that so I can't steal it," Suzie interjected.
"But I've got the best seat in the house because I get to stand there, watch her fly, and sing, and I love 'Defying Gravity' as a song."
That said, PEP asked Jemma how it feels to fly.
"It's pretty cool. It's really, really cool, you know. I don't get to feel the flight that much because you're concentrating so much on the singing, but it is pretty special.
"I remember when I first went up on the tech rehearsal and I was so, so excited, and so happy getting to fly."
Playing their respective roles for three seasons now, both Jemma and Suzie have had a lot of takeaways from getting to know their characters deeper, hanging out with each other and the other members of the production, and taking the story of Wicked to heart.
"I think the most special thing about the show is even though it's set in the land of Oz, all the themes of friendship and love are very universal.
ADVERTISEMENT - CONTINUE READING BELOW
"We can all come away from the show relating to some part of what's happened. You know, don't judge a book by its cover is, with the Glinda and Elphaba friendship, don't judge someone by their skin color or where they're from. It's very universal even though it's set in this fantasy land.
"And, you know, it's such a beautiful story between the two girls coupled with amazing music and orchestrations and incredible lighting and set, so it's really a spectacle on the show."