Filipina-American race car driver Michele Bumgarner left for the US on January 31, after spending the holidays here in the Philippines.
The 24-year-old will be doing two warm-up races at the end of February in New Orleans, Louisiana, and Birmingham, Alabama, to prepare for her upcoming stint at the Pro Mazda Championship 2014 season, which will be held in St. Petersburg, Florida come end of March.
Many of you might be wondering: Who is Michele and why should we bother to know her?
Well, she just happens to be the very first Pinay to join the said race and to ever reach her current level in the open-wheel car racing industry.
She made her biggest mark yet in 2013, when she got into the top 10 of the Grand Prix of Houston, one of the races in the highly popular IndyCar Series.
You might be more familiar with the famous personalities involved in this sport, such as Juan Pablo Montoya, Helio Castroneves, Buddy Lazier, Scott Dixon, Tony Kanaan, and Danica Patrick—who is dubbed as the most successful female driver in the league, so far.
Danica Patrick's success is the highest that a female driver has ever attained in the industry. She won third place at the prestigious Indianapolis 500, the biggest event of the IndyCar Series.
If Michele does well in Pro Mazda next month, she could be qualified to compete at the 2014 Indianapolis 500, the biggest race in IndyCar.
Before Michele hits the tracks this year, here are a few things you should now about this young woman:
1) She started racing at the age of nine.
Michele comes from a family of race car drivers and enthusiasts. Her father is the racer and businessman Lee Bumgarner.
"My dad owns the Subic Go-Kart track. That's where I learned how to drive," she tells PEP.ph (Philippine Entertainment Portal) in a recent interview.
"My dad, he used to race go-karts all over the Philippines, so sinasama niya kami lahat, like, my family and stuff.
"And then, my brother started racing when he was five, so late na akong nag-start. He's younger than me, I'm 18 months older than him. Nainggit ako sa brother ko, so I started to race also. "
Her brother is Mark Bumgarner, an international formula racer turned fashion designer.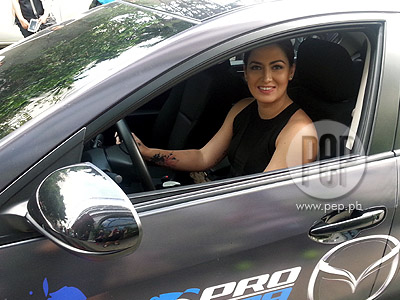 2.) She grew up racing Matteo Guidicelli and Marlon Stockinger.
Racing in the Philippines is still a relatively small industry where everybody practically knows everybody.
Growing up, Michele frequently practiced at the Carmona Racing Circuit in Cavite, where she proudly holds the track record of 42.36 seconds for fastest lap.
There, she used to race Marlon Stockinger, who is the first Filipino Formula One (F1) driver.
She also used to race singer-actor Matteo Guidicelli, who was a three-time Karter of the Year awardee before he decided to enter showbiz.
3.) She's got a number of championships under her belt.
For the first nine years of her life behind the wheel, Michele raced go-karts and won a number of awards and recognitions.
In 2003, she was named Karter of the Year and was the overall champion of the Asian Intercontinental Junior Karting.
In 2005, she won the heat race in the Suzuki Asia Pacific Championships and became the first Filipino driver to win an outside international kart race.
In 2006, she became the first Philippine representative to some international races, such as ICA Class World Cup of karting in France, and the Macau Karting Gran Prix Formula A event.
And in 2008, Michele became the first female to win the Tag Senior Class at the Rock Island Gran Prix in Illinois.
4.) She used to work for Paul Newman.
"He was my boss before, kasi he owned a race team in IndyCar," says Michele about the late Hollywood actor-director turned professional race car driver.
"He was really big in racing. He owned a race team and I was part of that race team. I was in the Newman Wachs Racing for about a year and a half until he died na in 2008."
So what was it like meeting a legendary figure in racing?
"When I met him, well, obviously he was matanda na, he was very, like, frail because I met him towards the end na.
"But I got to ride on his plane from a race, so that was pretty cool!"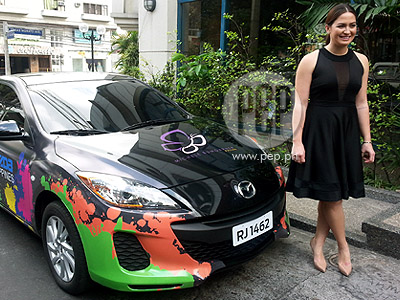 5.) She's very much a girl in a man's world.
The mere thought of a female racing cars—a sport that's stereotypically "made for men"—would give anyone the impression that maybe this girl is a tomboy.
But Michele describes herself as: "Girl na girl, super. As girly as you can get. I just happened to be a race car driver at the same time."
During the interview, she wore a black lace-paneled bodice dress designed by her brother Mark, and a pair of nude Christian Louboutin pumps.
"Obviously, me, I'm wearing a dress and heels, di ba? I guess it depends on the person. Like me, I've always been very girly, pero I'm also a race car driver.
"Parang I have that good balance naman, so hindi, like, if I'm still racing, I'm not like parati akong naka pang... parang tomboy, di ba? You know what I mean?"
Michele says that her favorite pastime is shopping. She loves shopping for shoes and bags, and she admits to have quite an expensive taste. Her favorite brands include the likes of Prada and Yves Saint Laurent.
When she's out of the racing season, Michele loves hanging out at the beach with her friends. She also enjoys her regular salon and spa visits.
"I love mga mani pedis, foot spa, massages... I really enjoy that."
Inside the race track, Michele has never felt intimidated by the fact that only she and a very few women are involved in the sport.
Has she ever gotten bullied by men in the race track?
"Yes and no, kasi siyempre certain guys, of course, feeling nila dapat pang lalake lang. Pero I think nasanay naman na sila after I started racing.
"Pero minsan, may mga naiinis if I'm faster than them or if I beat them. May naiinis, nagko-complain sila, they're saying I'm cheating, iyong gano'n, parang non-sense stuff."
She simply breaks whatever gender stereotype is being associated to her by perfoming well on the track.
6.) She takes good care of her body.
Unlike other female athletes, Michele, who stands tall at 5'9", isn't exactly the lean and toned type.
Although she is not stocky at all, she boasts of broad shoulders and chunky arms.
"Kailangan, e," she quips.
She describes her workout routine: "When I'm here [Philippines], I play tennis every day. I do boxing, I do conditioning classes at Fort Rock at the Polo Club, I run, I swim…
"Kasi for racing, you have to have really good upper body strength, have good, strong neck muscles, kasi with the G-force, of course, nakakangawit talaga.
"And then, good endurance talaga kasi siyempre iyong 45 minutes race ko it's dire-diretso, no pit stop or anything, and obviously the higher I go up, [the ranks] the longer I'll be racing, so it's very important.
"When I'm in the States, I do like mga lifting, I do agility work, reaction training."
As for her diet: "I eat a lot of, like, good carbs and stuff, and I need to be hydrated. Kasi my race is about 45 minutes long, tapos walang break, dire-diretso iyan.
"So, if you think about it, you lose a lot of water weight kasi you're out there and you're sweating a lot because you have to wear fireproof underwear, socks... as in you have to have the suit, as in everything talaga is fireproof, so that's really hot."
And, she adds, that before each race, she always makes sure that she gets a lot of sleep.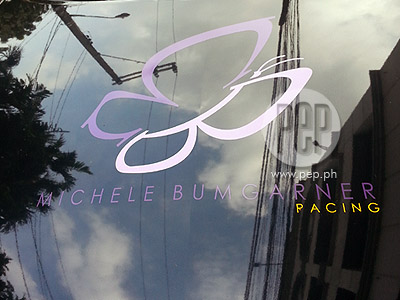 7.) She admits that racing is not for everyone.
While other athletes raise awareness for their sport by inviting more people—especially the kids—to try it, Michele accepts the fact that she can't simply do that for racing.
"It's not for everyone talaga because racing is a rich man's sport. You know what I mean? It's super mahal. I think it's one of the most expensive sports you can do.
"You can't even practice in a real car everyday kasi nga it's expensive. Like, minsan, one day on the track lang, $10,000 na iyan. So, you can't do it every day even if you wanted to, unless you really, really are the richest man on earth."
For practice, Michele and her team cuts the cost by sending her to do simulator work.
"Iyong training program ko is partnered with this company called Race Craft One, that has the simulator. Iyong parang video game racing software, parang you're actually in a car—but obviously not exactly—but it's as closest to it as you can get.
"So, that helps, especially if I'm going to a race na first time ko sa track and I can't practice the track. So, before going to the track, I practice sa simulator."
8.) She has a talent manager, but won't enter showbiz.
Although she just signed a contract with Arnold Vegafria's ALV Talent Circuit, Michele says she won't be going into showbiz like her friend Matteo Guidicelli did.
"No!" she said with a laugh, adding that she couldn't imagine herself acting in front of the camera.
"Hosting... When I have time, maybe. Pero siyempre, for me, I'm more focused talaga on racing. That's my number one priority.
"I signed up with ALV because, siyempre, I'm getting more professional, especially at this level, so dapat professional din iyong mga tao sa paligid mo.
"So, I got Arnold here, and then I also have a professional handler in the States to help me out with, like, events and stuff."
9.) She dreams of becoming the very first female to win the IndyCar Series.
Speaking of being professional, Michele hopes to really make it big in her chosen career.
Her ultimate dream?
"I wanna be first female champion in IndyCar, in Indy 500.
"Siyempre, it's never been done by a female, so I wanna be the first.
"Hopefully I'll also be the first Asian, and First Pinay to do that, so yeah. I mean, it's a big goal, pero kayang-kaya naman. I just have to keep working at it."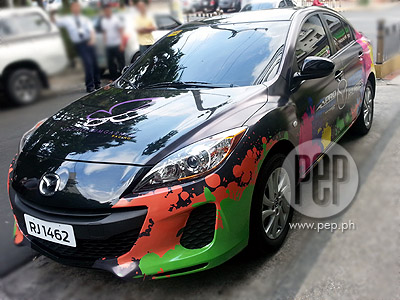 10.) She plans on racing until her 40's.
For how long does Michele see herself sitting behind a wheel?
"I wanna be in racing for until, like, I'm 40.
"Sa racing wala namang age limit. In IndyCar, the average or oldest, I think is 35, almost 40. The others they move into Nascar, kasi iyong Nascar pwede ka nang 50 or more, so I plan on racing talaga for a long time.
"It's really my passion. Ito lang iyong gusto kong gawin. I can't imagine myself doing anything else, so I won't give it up. You know what I mean?"