An invitation to stay overnight at Networld Hotel was quite timely because I've been wanting some "me time" just to recharge after an exhausting week at work.
Situated along Roxas Boulevard near World Trade Center in Pasay City, it's not only very easy to find, but also a convenient ride away from wherever you're coming from in the metro.
Upon arriving at the place, I learned that it's actually a Japanese-oriented service boutique hotel, which explains why most of the guests I bumped into are Japanese businessmen and their families, as well as other foreigners. Most of the staff members, I heard, can speak basic Japanese.
DELUXE ROOM. It was only four in the afternoon, so I unpacked my bags first and proceeded to inspect my room for the weekend.
It's a clean and well-maintained standard deluxe room (priced at around P3,700) with a comfy twin-size bed, a flat screen TV with cable channels, and a bathtub/ shower.
There's also complimentary coffee, tea, and water at my disposal. A coffee addict like me appreciates these perks, especially during odd hours when I'm too lazy to go down the hotel resto for a quick dose of caffeine.
Then I checked out the view from my hotel room window—nice, it overlooked the cityscape.
For the rest of the afternoon, I happily dozed off.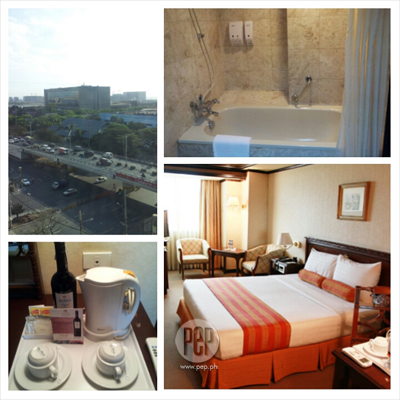 DINNER AT KAISHU. I woke up at 6 p.m. and took my time preparing for a heavy dinner ahead.
Located at the ground floor of Networld Hotel, the Kaishu restaurant offers an authentic Japanese dining experience.
It has 14 "tatami" or Japanese-style VIP rooms, which can accommodate a group of 8 to 10 people each.
But since I was all by myself, I was ushered into the regular dining area where I was served a filling Yakinuku set meal.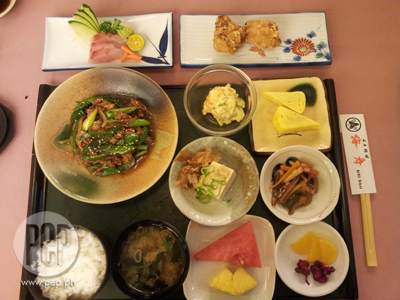 Priced at P680, it's comprised of beef with mixed vegetables, fried chicken rolls, sashimi, scrambled egg, potato salad, squid, tofu with ginger garnish, miso soup, and fresh fruits for dessert.
I particularly enjoyed the fried chicken rolls with its thick breading and juicy white meat. It tasted well with fresh tofu and creamy potato salad.
I was later told by the hotel manager that although most Japanese guests can finish the set meal alone, some say it's good enough for two.
If you happen to be here with friends, a must-try would be the nabemono or hot pot dishes served with your choice of meat/seafood (250 grams), glass noodle, shitake, straw mushroom, tofu, onion leeks, Baguio-petchay, spinach, and carrots.
Good for five persons, nabemono's price ranges from P2,500 to P4,000 depending on the kind of meat that you order.
It's open to hotel guests and walk-in customers from 11 a.m. to 2 p.m. and 5 p.m. to 12 midnight.
SPA GALORE. Given its plush interior and complete facilities, SM Kenko Spa is indeed a huge haven for rest and relaxation. According to the hotel's website, it has a floor area of 1,650 square meters.
It also claims to be the "first authentic Japanese health spa" in the country, which also, supposedly, uses blended natural oils from Australia.

Upon entering its lobby on the 5th floor of Networld Hotel, I instantly felt relaxed with the aromatic smell of essential oils.
The main attraction is its hydro-jet hot and cold whirlpools.
A dip instantly eased my tense muscles and made me forget about daily little worries.
I let the pool's water jets massage my back and tired feet, and also tried the dry heat sauna for good measure.
The complimentary use of whirlpools and sauna is part of the hotel accommodation package.
Take note though that spa customers are required to be fully undressed once they're in the wet area.
The spa is open for 20 hours—from 11 a.m. until 7 a.m.
I tried the sauna at around 1 a.m. and practically had the place all to myself.
Aside from that, SM Kenko Spa offers lots of value-for-money services, like body massage (Shiatsu, Swedish, and Thai or combination), body scrub, and acupuncture, among others.
Walk-in customers can avail the 60-minute body massage with use of sauna starting at P980.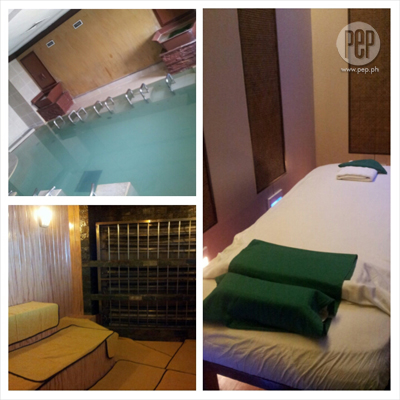 BREAKFAST AT LE AMORETTO CAFÉ AND BAR. Hotel guests get a complimentary breakfast at Le Amoretto Café and Bar.
On Sundays, just like when I was there, they served Japanese dishes for the breakfast buffet.
There were three main viands—ajitsuki yudofu (vegetable-tofu hotpot), saba shioyaki (grilled mackerel), and konbu tsukodani (Japanese-style adobo).
I helped myself with a small serving of konbu tsukodani, coffee, bread, and chocolate cereals.
In the far corner of the non-smoking area was a mini-stage with a grand piano. On weeknights, from 8 to 11 p.m., the restaurant also features live performances.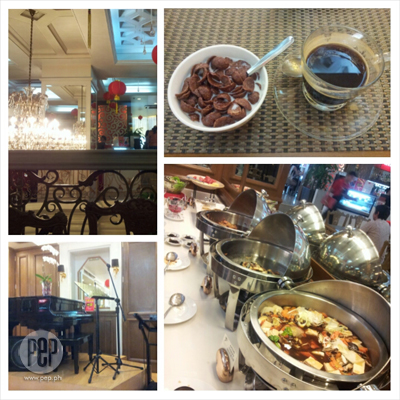 Come February 14, a dinner date at Le Amoretto would cost P1,350, and entail a four-course meal for two.
The set meal includes chicken and rice cake soup, pasta salad with creamy sea urchin, crispy prawn with roasted sesame and herbs bread crumbs, beef tenderloin baked stew with steamed veggies and baked potato, and strawberry cheesecake for dessert.
On regular days, hotel guests and walk-in diners can choose from their varied menu, which includes pizza, pasta, and even Filipino dishes.
WHAT ELSE TO DO. The hotel also has its in-house mini casino, Club Majestic, which is located on the second floor of the building.
Open for 24 hours daily, it houses 224 state-of-the-art slot machines.
But if you're not a fan of gambling for leisure, there are other fun ways to maximize your staycation.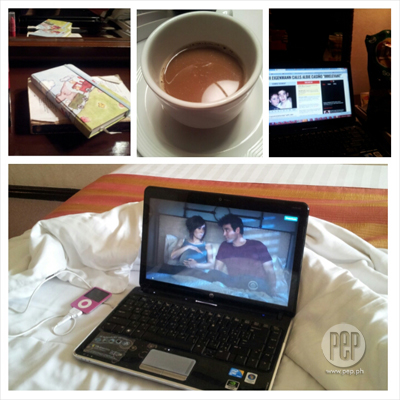 With the hotel's free wi-fi access, I was able to catch up on my favorite TV series at my room.
It was also a good time to make the most out of the peace and quiet by reflecting and writing some of the things I want to accomplish this year on my little notebook.
For more details and prices, check out PEP.ph's (Philippine Entertainment Portal) exclusive PHOTOS of the hotel.