IMAGE Courtesy of Sofitel Philippine Plaza
---
Sofitel Philippine Plaza marks the Year of the Horse with the Shanghai Nights fashion show, the unveiling of a 15-piece collection of renowned designer Albert Andrada.
The Fashion show ushered in a new year of fortune and abundance, with a rich collection that took the audience on a journey through the heart and soul of the streets of Shanghai, also known as the Paris of the East.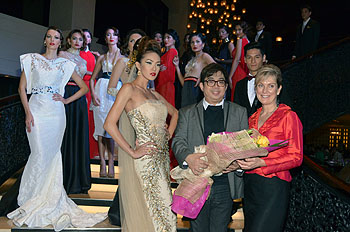 ADVERTISEMENT - CONTINUE READING BELOW
For this Year of the Wood Horse, Andrada proposes a sexy, elegant, and opulent look for today's women.
Inspired by the Chinese red lanterns and the gold colors from the lights of Shanghai, his collection celebrates the silhouette of women through the masterful use of red, white, black, and gold colors using chiffon fabrics, French laces, crepe silk, and duchess satin.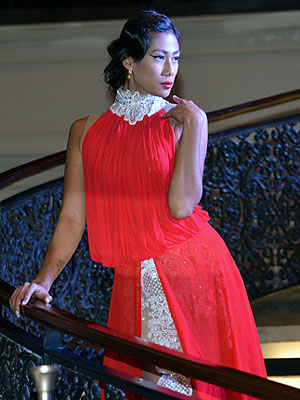 ADVERTISEMENT - CONTINUE READING BELOW
The designer also used his signature Swarovski components and embroidery techniques to bring out opulence in every stride of the models that sashayed in the magnificent staircase of Spiral restaurant.
The mood of the show was inspired by the movie 2046, set in post-war Shanghai, by acclaimed film director Wong Kar Wai, the first Chinese director to win the Best Director Award of Cannes Film Festival.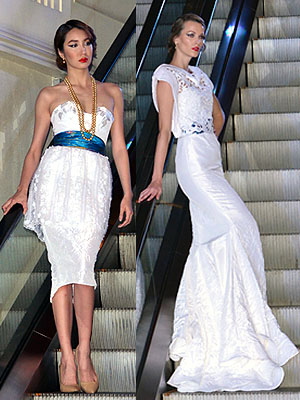 ADVERTISEMENT - CONTINUE READING BELOW
The show was presented by Sofitel Philippine Plaza with the help of Jewelmer, which provided pearl accessories for the models, Kiehl's for hairstyling, and Gino Alduente for makeup.
Shanghai Nights was directed by Robby Carmona, and featured models from Mercator Model Management.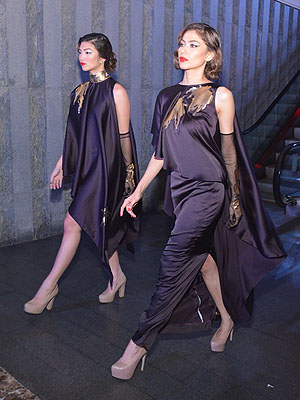 Hideo Muraoka headlined the show, along with top fashion models Justine Gabionza and Grendel Alvarado; former beauty titlists Queenie Rehman (Miss World Philippines 2012), Jennifer Barrientos (Binibining Pilinas Universe 2008), Marie Ann Umali (Miss World Philippines 2009); and actress Wendy Tabusalla.
ADVERTISEMENT - CONTINUE READING BELOW
Guests were serenaded by Chinese singer Max Tiu with Chinese love songs while lucky patrons won fabulous prizes from Jewelmer and Kiehl's.